ABOUT SEAL SITTERS

Seal Sitters Marine Mammal Stranding Network (SSMMSN) is an all-volunteer group dedicated to the protection of marine mammals and inspires stewardship of our fragile marine ecosystem.
SSMMSN responds to reports of all species of marine mammals, dead or alive, along West Seattle's coastline, including that of the highly industrialized and toxic
Duwamish Waterway
and Harbor Island. The group provides health and mortalities data to government agencies and biologists who monitor seal populations and emerging disease.
Seal Sitters First Responders average 200+ responses annually to marine mammals. Of those responses, 90% are to harbor seal pups trying to warm up on crowded beaches.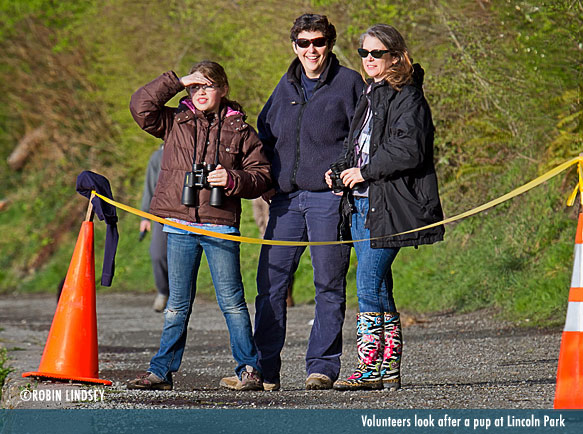 With a binding
NOAA
agreement as part of the
West Coast Marine Mammal Stranding Network
, thousands of hours are donated annually by Seal Sitters volunteers to keep marine life safe and educate the public. Seal Sitters has created a unique opportunity for protection, conservation, education and research.
Seal Sitters works closely with other members of NOAA's stranding network.
WEST SEATTLE - SEAL CITY
In the summer of 2007, an unusual urban phenomenon occurred: harbor seal pups began showing up in numbers on the busy beaches of West Seattle after striking out on their own from Puget Sound
rookeries
. The first tiny pup arrived on a hot mid-August day on popular Alki Beach and was quickly surrounded by a crowd of curious and concerned beach-goers.
That pup, nicknamed Spud, was the impetus for the creation of the then grass-roots group, Seal Sitters, whose volunteers protected many vulnerable seal pups throughout that fall and winter. Every year since, West Seattle has been a hotspot for seal pup activity. Thanks to our volunteers, seal pups are able to snooze undisturbed in the sun (or rain) for many hours before returning to forage in the cold waters of Puget Sound.
SEAL PUP LOVE FEST

People fall madly in love with seal pups. Watch the video at right of weaner seal pup "Queen Latifah" hauled out along the Elliott Bay shoreline, as enchanted onlookers ooh and ahhh from a safe distance.

It's human nature to think that because a pup is onshore, he must need help or should be put back into the water. To the contrary, human interference can cause undue stress of weaned pups and abandonment of newborns.


What seal pups need most is some space to rest and warm up out of bitter cold Puget Sound. Seal Sitters makes sure they get that rest on West Seattle's urban shoreline.

ALMOST A DECADE OF SERVICE
Over the past 9 years, with a steady annual flurry of seal activity (usually extending well past
harbor seal pupping season
), Seal Sitters has grown in both stature and efficiency. With a
dedicated hotline (206-905-SEAL)
, website and
blog
, we have become a valued resource for information throughout the Northwest.
A highly visible and active network, volunteers educate many hundreds of residents and visitors each year about marine mammal behavior and biology and the dangers of pollution to all Puget Sound marine life. Local West Seattle residents know that if they see yellow tape and orange cones at the beach, there must be a seal under the watchful eye of Seal Sitters.
In addition to education and protection, Seal Sitters has been instrumental in assessing the health of pups and adult seals and sea lions, a number of whom have been rehabilitated by
PAWS
(Progressive Animal Welfare Society).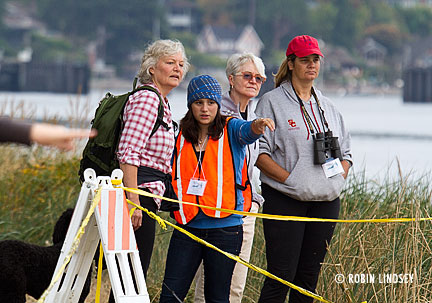 KID VOLUNTEERS LEARN STEWARDSHIP
Unlike most marine mammal stranding networks, Seal Sitters encourages children to join the group. Since much of our work takes place on easily accessible urban beaches and parks, it is safe for kids to participate under the supervision of a parent or guardian. Kids learn about the devastating impact of pollution on marine life and the importance of sharing the shore with wildlife. Many parents have noticed a marked increase in their child's confidence after becoming a Seal Sitter. Volunteering empowers kids with knowledge about our natural world and ways they can make a difference.


BECOME A SEAL SITTERS VOLUNTEER!
There are lots of roles to play in our organization, from hotline operator to working the beach and educating passersby.
Learn more about how to volunteer, including training dates, here.

WE DEPEND ON PUBLIC DONATIONS

Seal Sitters receives no funding from NOAA, City of Seattle or the State of Washington to perform our work. We rely solely on private donations to help defray our many costs.
If you'd like to donate, please click here.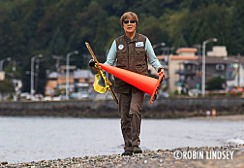 SEAL SITTERS TRAINING

Seal Sitters has trained more than a thousand volunteers over the past 9 years.


Click here
to find out more details on the next scheduled training date and general info about volunteering.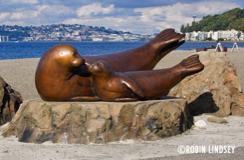 EDUCATIONAL EVENTS

In 2013, Seal Sitters completed our 3rd grant educational project, culminating with the installation of a bronze sculpture depicting a harbor seal mom and pup, "Sentinels of the Sound."
Learn about this and our other educational projects here.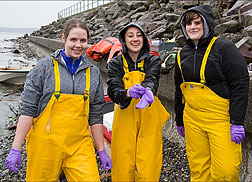 THE STRANDING NETWORK PERFORMS VALUABLE SCIENCE

NOAA'S West Coast Marine Mammal Stranding Network is the first line of response for stranding events and ensures the safety of both animals and the public.

Learn more.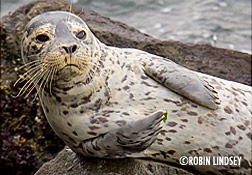 SEAL PUP INFO

Why is there a seal pup alone on the beach? What are some common mistakes to avoid? Why is it important to stay back? When is harbor seal pupping season?


Learn about pups
here.