SEAL PUP 101

Harbor seal pups grace our lives by visiting inland Puget Sound waters in early summer and fall. However, along the coastlines of Washington and Oregon, they are born as early as April (
view map of pupping season
).
Pups
haul out
to get much-needed rest and to warm up out of the cold Pacific Northwest waters. They can be found sleeping on beaches and craggy shorelines, often alone for long hours.
Young seal pups are extremely vulnerable and need our protection. The best way to do that is to give them space to reduce stress and disturbance.
Only 50% of harbor seals survive their first year.
Among the many factors that can contribute to seal pup death are abandonment, starvation, disease, premature birth and birth defects.
Please stay back - 100 yards when at all possible - from resting seals.
LIFE IN A THE ROOKERY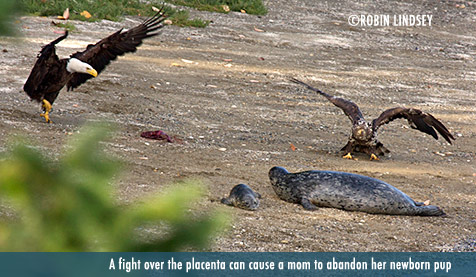 In the ideal world, seal pups are born on remote beaches, far away from people and dogs. During breeding season, seals haul out in great numbers on islands, rocky outcrops and sand spits - even logbooms.
Immediately after birth, mom bonds with her pup. She memorizes her pup's scent and call in case they get separated. The rookery is a busy place - often with 100 or more pups, all calling out to to be fed.
It's common for eagles and seagulls to frequent a harbor seal haul out during pupping season. The nutrient-rich placenta is a prize to be fought over. A disturbance sometimes can cause abandonment if the mom doesn't feel safe or hasn't bonded yet with her newborn. In the photo above, the mom left the minutes-old pup briefly, but returned to protect and nurse him.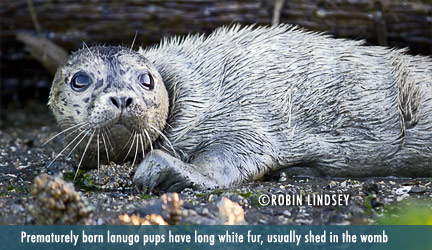 As with all species, prematurely born animals have high mortality rates in the wild since lungs and muscles are not fully developed. They are often abandoned at birth. Harbor seal preemies are known as
languos
, for the long, white and wavy fur that is usually shed in the womb. The amount of this lanugo fur on a newborn pup indicates how premature the pup is.
The pup at left is almost full month premature, with a greatly reduced chance of surviving. Since a seal mom has just enough resources to nurse her pup for a month or so, this pup would not have fully developed teeth to forage on his own when weaned. Weak pups such as this tend to spend more time onshore and are more vulnerable to predators, like
coyotes
. Read
NOAA's rehabilitation policy on lanugo pups here
.
SAFETY IN NUMBERS AT THE ROOKERY

Seal moms and newborn pups are much safer from dangers in the
rookery
. While some seals snooze or nurse, others are on high alert for predators. Studies have shown that in groups of 8, one seal is scanning the area frequently. In larger groups, more are able rest among the skittish colony.
Stay back from harbor seal haul outs - 100 yards.
A boat or kayak coming too close to the haul out can easily spook the animals and cause them to stampede or
flush
into the water, putting pups at risk of abandonment.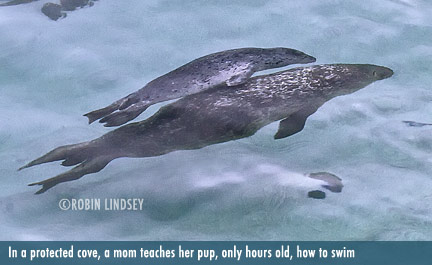 Almost immediately after birth, a pup is able to swim. At 2 days old, he is able to stay underwater for 2 minutes. Within a short time, he is playfully exploring his new watery world.
Moms are very affectionate with their offspring, who usually accompany them on short swims offshore. By the time pups are weaned at 4-6 weeks, they will have doubled their birth weight (18-30 lbs) on mom's milk (almost 50% fat).
Females stop nursing when they have depleted their resources, often having lost half their body weight. They now need to concentrate on their own survival.

WEANED PUPS FACE CHALLENGES AND NEED PROTECTION ON URBAN BEACHES
Pups leave the safety of the rookery a few weeks after being weaned and often end up on urban beaches. Weaners are now all alone, on their own without mom to feed them. Pups can drop weight quickly before they master the art of catching fish. Lower body weight can compromise the immune system and make them susceptible to parasite loads and viral infections.
A pup that is scared back into the water, wasting precious calories, will be weakened and more vulnerable to predators - including off leash dogs. If a pup has to spend more time than necessary in the cold water, he
will have to expend more energy trying to keep warm
. Most newly weaned pups have already lost their thick blubber layer which keeps seals warm and provides fat calories for energy. In order to have the strength to forage and thicken that fat layer, they need to rest undisturbed.
Seal pups don't always have the energy to keep swimming past beaches where people recreate and dogs run off leash. An exhausted pup will often
haul out
by fishermen or picnickers.
Please, give them space on shore and quietly move away. Call your local stranding network.


WHAT'S IN A YAWN?

Early in the season, when pups are just starting to arrive on beaches around West Seattle, we wait patiently, with a long telephoto lens, hoping to get a photo of a sleepy pup's yawn.
Why? If we can see how many teeth a pup has, we can get an idea if the pup is still nursing age or if the pup is weaned and on his own. Even though we don't know exactly when a pup was born, it gives responders an idea whether the pup is still dependent on mom for nourishment.
While Seal Sitters takes every precaution to keep all pups safe on our watch - and people quiet and at a distance - the situation becomes critical with a nursing pup. We need to give mom every opportunity to return for her offspring. Since adult females are wary of people, the area needs to be clear of all activity in hopes she is still in the area.
NOT EVERY STRUGGLING PUP IS A CANDIDATE FOR RESCUE
Harbor seal populations are considered to be at healthy numbers. Since mortality in the wild is 50%, it can be expected that many of the pups we see on shore will not make it. In the Pacific Northwest, there are limited resources to rehabilitate pups. NOAA's policy is that space be reserved for cases of human interaction.
Even for those lucky pups given a second chance after rehabilitation, the statistics do not reveal an increase in survival rates. Many of the young rehabbed pups were not raised with other seals and are not skilled at foraging upon release. Teaching a pup to catch fish in a small rehab pool is a far cry from tracking down fish in the cold and wide open spaces of Puget Sound. A
SeaDoc Society study
showed that rehabilitated pups traveled much further in search of food than did their wild-weaned counterparts, who learned foraging skills from other seals.
Read NOAA's
Share the Shore with Seal Pups
public service announcement. It provides concise and clear insight to the most asked questions, including NOAA policy on rehabilitation.

"MAN'S BEST FRIEND" IS NOT NECESSARILY A SEAL'S BEST FRIEND

Make sure your dog is leashed at all times when you visit the beach. Not only are the seal pups at risk from dog attacks, but dogs are at risk, too. Pups can bite. Seals and dogs can transmit zoonotic diseases between species.
In most cities, like Seattle,
dogs are not allowed on the beach, leashed or unleashed
. Virtually every year, seal pups are severely injured or killed in Washington by off-leash dogs.
HUMAN INTERFERENCE HAS LEGAL CONSEQUENCES
Each pupping season, there is a rash of illegal pickups and handling of harbor seals. In one case, a pup was wrapped in a blanket, causing him to overheat and die. In another incident, human interference caused abandonment and the pup was forced into a rehab facility. A pup's chance for survival is always better in the wild with mom.
These cases and others are being investigated for prosecution by NOAA Office for Law Enforcement and Washington Department of Fish and Wildlife Enforcement.
COMMON MISTAKES THAT CAN RESULT IN HARM TO SEAL PUPS (AND ARE UNDER PENALTY OF LAW):
DON'T TOUCH. Seals, like all wild animals, can transmit disease to humans and dogs - and vice versa. A frightened animal will bite and can cause a serious bacterial infection.
DON'T MOVE. A nursing pup will starve if mom cannot find her pup where she left him.
DON'T FEED. A seal pup's digestive system is designed for mom's milk only while nursing (other foods can cause great harm - even after weaning
DON'T COVER. Wrapping in a blanket or cloth can cause brain damage and death as pups try to regulate their body temperature. Shivering is not uncommon.
DON'T PUT PUPS BACK IN THE WATER. Seal pups need to rest and warm up out of the water. This is critical to their survival. All seals spend roughly 50% of their day on shore. Don't worry about the tide - a pup can swim immediately after birth.
DON'T LET DOGS NEAR SEAL PUPS. Disease can be transmitted. Disturbance can cause abandonment. Each year, dogs kill or seriously injure seal pups.
ALL SEAL PUPS FACE BIG CHALLENGES TO SURVIVE - GIVE THEM THE SPACE THEY NEED

Every day is life and death for a seal pup.
They have to rest out of the water to regulate their temperature and gain the strength required for their survival.
Human interference has drastic consequences for seal pups
, whether on shore, on an offshore dock or platform, or at a haul out.
Stay back to avoid causing undue stress which impacts the ability for a pup to rest. Keep people and dogs away. In coastal areas where driving on the beach is allowed, please be alert! Pups have been run over and killed by careless drivers.
Call your local stranding network to report marine mammals on shore.