MARINE MAMMALS OF THE PACIFIC NORTHWEST

The waters of the Pacific Northwest, including the inland waterways known as the
Salish Sea
, are rich with marine life. From the highly intelligent
giant octopus
to undulating
aggregating anemones
, there are invertebrates galore. Lush underwater meadows of eelgrass provide shelter for juvenile salmon and herring fry. Kelp forests are a refuge for sea otters and harbor many species of fish and crustaceans.
Also abundant in this remarkably diverse habitat are over 30 species of marine mammals - creatures great and small. Cetaceans (dolphins, porpoise and whales), pinnipeds (seals and sea lions) and sea otters call the Pacific Northwest home.
For a comparison of some of the most common marine mammals found in the Pacific Northwest (gray whales and orcas, harbor seals and sea lions, Dalls porpoise and white-sided dolphin, sea otters and
land mammal
river otters), please watch
Marine Mammals Two by Two
.
Photos and video contained within the work are copyrighted by the contributing artists. A NOAA project for school children, it is equally informative for an adult audience.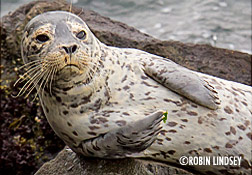 HARBOR SEAL


Harbor seals are the most common marine mammals seen in Puget Sound. Adults and pups spend 50% of their day resting out of the water along the shoreline. Young pups are often encountered alone on the beach.
Learn more.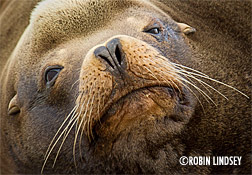 CALIFORNIA SEA LION


These highly social pinnipeds are easily recognized by their boisterous barking and playful behavior, both in the water and on buoys, docks and rocky shoreline. Commonly seen in all Pacific Northwest waters.
Learn more.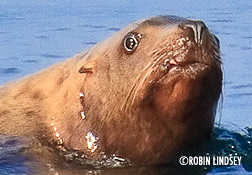 STELLER SEA LION


Steller sightings have increased in Central and South Puget Sound over the past years. Lighter in color and much larger than CA sea lions, they vocalize with a distinctive, deep roar.

SPECIES PAGE COMING SOON.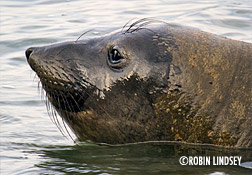 ELEPHANT SEAL


The largest pinniped in the Pacific Northwest is not commonly seen in Puget Sound, but numbers have been increasing. A pup was born in 2015 on Whidbey Island.

SPECIES PAGE COMING SOON.