MARINE DEBRIS AND DERELICT FISHING GEAR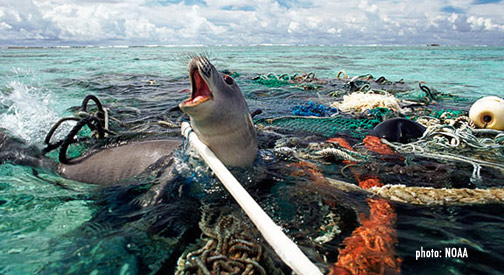 MARINE DEBRIS MAIMS AND KILLS MARINE LIFE
Marine debris - derelict fishing gear and trash - is dangerous to whales and other
cetaceans
, seals, sea lions,
sea turtles
and sea life.
Every year around the world, countless numbers (some sources estimate millions) of animals, fish and sea birds get entangled in
marine debris,
including fishing line and tackle, derelict gear, nets, plastic and metal box straps - resulting in injury or death. Air-breathing sea turtles drown in nets and often swallow floating plastic bags, mistaking them for food, and suffocate.
Northwest Straits Initiative is working to rid Puget Sound of derelict fishing gear. As of mid-June, 2015, they had removed a total of 9,301 derelict nets and crab pots. It is estimated that those Puget Sound
nets alone entangled 4.4 million marine animals annually
. You can imagine the staggering numbers of marine animals that are entangled world-wide.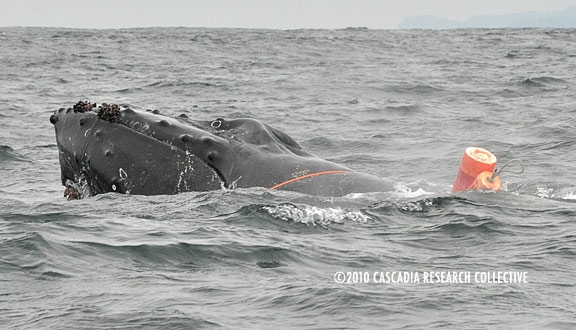 WHALE ENTANGLEMENTS ON THE RISE ALONG US COASTLINE

The line securing crab traps to buoys cuts deep into a whale's flesh, causing serious injury or death. Heavy
lines and gear cause drag
and can exhaust a whale to the point of drowning. A record number of humpback and gray whales - at least 30 - were entangled in fishing gear in 2014, mostly crab pots.
2015 is on a tragic record-setting pace. As of April, in California alone,
at least 25 entanglements had been reported
. As of October, there have been around 50.
Cetacean experts from
Cascadia Research
, a member of the West Coast MMSN, have attempted a number of dangerous - and often, lifesaving - whale disentanglements over the past years. Read about a challenging
May 2010 disentanglement of a humpback
by Cascadia's team off the Washington coast (photo above). For the story and video of another whale disentanglement off the California coast last year,
click here
.
A recent public education push by
Northwest Straits
teaches crabbers how to better secure pots and use
escape cord
to lessen drifting, derelict pots that endanger whales and often entrap and kill other sea life. It's just one of the many ways we can keep our waters safer for those who call Puget Sound home.
Learn how to make a crab pot safer
.
Links about crab gear and how you can help prevent entanglements.
NETS AND LINE POSE HAZARDS FOR MARINE LIFE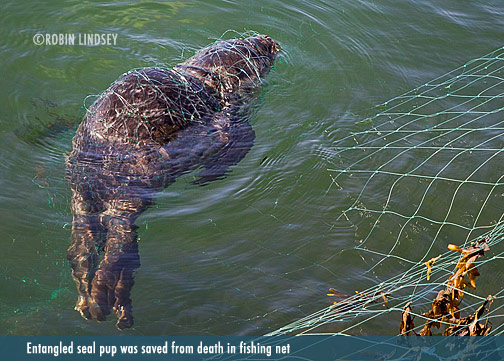 Marine mammals - small cetaceans and pinnipeds - and sea turtles are terribly vulnerable to net entrapment. Discarded and often drifting nets snare and drown them. It's called
ghost fishing
and the statistics are truly frightening.
Active working nets are equally lethal. Marine life that perishes is considered accidental
bycatch
. Researchers are working to
improve fishing techniques and gear
to try to reduce bycatch numbers, including so-called "seal friendly" nets. Seals and sea lions often raid fishermen's nets, stealing
stickers
, fish that stick partly out of nets. Consequently, pinnipeds have few friends among fishermen and often pay a heavy price.
Seal pups, who are not net-savvy like adult seals and sea lions, are especially vulnerable to getting wrapped up in gill nets. The seal pup at left was listless and exhausted when freed by Seal Sitters' first responder. Too many are not able to be rescued in time. Fishermen are supposed to monitor their nets to avoid injury and death of by catch.
Small scraps of net and line are the most common entanglements of marine mammals, sea birds and turtles. Unknown numbers of marine mammals are injured or drown every year.
MARINE DEBRIS DEVASTATING FOR STELLER SEA LIONS

WARNING
: GRAPHIC VIDEO NOT SUITABLE FOR SMALL CHILDREN
Alaska Department of Fish and Game
created an in-depth video about the consequences of marine debris on Steller sea lion populations in Alaskan waters. These same risks apply to
pinnipeds
(seals and sea lions) in other areas as well. It is not unusual to see animals entangled with fishing gear at harbor seal and CA sea lion haul outs, too. The video does offer hope, as scientists look for solutions to this pervasive problem.
Closer to home in the Salish Sea,
Sea Doc Society
and the
Vancouver Aquarium's Marine Mammal Rescue Centre
worked together to remove a plastic packing band from a 1,400 lb Steller sea lion's neck. It is a dangerous process to try to remove fishing gear from an active animal. Read about the
successful disentanglement
off Canada's Vancouver Island.
SEAL PUP SANDY - THE FACE OF MARINE DEBRIS
In 2011, Seal Sitters rescued an emaciated seal pup, nicknamed Sandy, from a West Seattle beach. After a lengthy rehab at
PAWS Wildlife Center
, she was fitted with a satellite tracking device and released back to the wild early in 2012.
Over the next few months, Sandy travelled throughout the waters of Puget Sound. Her journey was followed by hundreds of Salish Sea residents thanks to a dedicated SeaDoc Society webpage showing daily hits from her satellite signal. Then, one day in April the sat tag went silent.
Tragically, Sandy was found dead by divers, entangled in derelict fishing line.
Read more about Sandy on Blubberblog.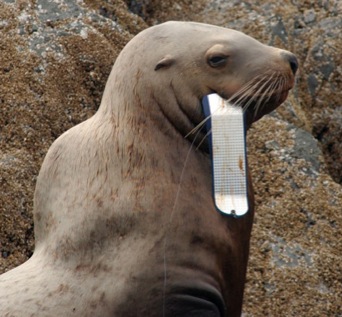 YOU CAN HELP WILDLIFE AVOID INJURY AND DEATH
After the death of seal pup Sandy, Seal Siiters received many questions about what one could do about derelict fishing gear. Liine and nets ares especially dangerous. Never get close enough to risk becoming entangled yourself. Trained divers have died during fishing gear recoveries.
WHAT CAN YOU DO TO PREVENT INJURY AND ENTANGLEMENTS?

• properly secure your pots and gear
• know what's below you when fishing to avoid snagging
• use "
escape cord
" on shellfish pots
• properly dispose of fishing line and lures
• cut all loops of packing bands and lines
• remove trash and fishing line and lures from the beach
• report type of gear and location as soon as possible
• never release helium balloons outdoors

WHAT SHOULD YOU DO IF YOU ENCOUNTER
A
DEAD ENTANGLED ANIMAL
?

If you see a dead marine mammal entangled in gear, get a photo if possible. If the animal is tagged and you can do it safely, try to get a photo of the tag number. Do not put yourself in danger to do so.
Do not attempt
to remove entangled animal or fishing gear.
Call the NOAA Stranding Hotline: 866-767-6114.
Email the photo of the animal along with lat/long information
to Kristin Wilkinson, NOAA's West Coast Marine Mammal Stranding Specialist.
Report only
derelict gear in Puget Sound to:
NW Straits 360-733-1725
or file a report via
online rerporting form.

For
derelict gear in Washington waters, call the WA Department of Fish and Wildlife: 855-542-3935.
WHAT SHOULD YOU DO IF YOU ENCOUNTER
A
LIVE ENTANGLED ANIMAL
?

Call the NOAA Stranding Hotline: 866-767-6114.
(in the West Seattle area, please also call 206-905-7325).
Keep in mind that most of the networks do not have boats or divers readily available for immediate response except in matters of whales.
For
entanglement of large cetaceans
, please call:

1-877-SOS-WHALE (1-877-767-9425)

or hail the
U.S. Coast Guard on VHF ch 16
.


NOAA whale entanglement reporting form.
Marine debris is perilous is to all living things - including you. There is inherent danger in trying to free an animal.
Please
leave disentanglements to the experts
.
Always contact the Marine Mammal Stranding Network.
MOST OF OCEANS' TREACHEROUS TRASH COMES FROM LAND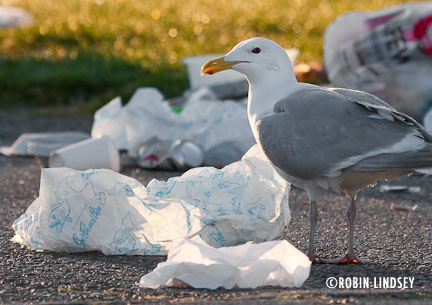 It's estimated that up to 80% of all trash that ends up in our waterways originate from land - among other things, discarded fast food wrappers, cigarette butts, automobile tires, 6-pack rings, helium balloons, single use plastic bags.
Cigarette butts
aren't just ugly trash - they're toxic trash. An estimated
360 billion cigarette butts
are discarded each year alone in the US - and around
4.5 trillion
worldwide. and they leach harmful chemicals, such as cadmium, lead, arsenic, nicotine and formaldehyde - into the environment within an hour of contact with water.
Because most cigarette filters are made of cellulose acetate (plastic), they can take up to 10 years to biodegrade. Efforts are underway to
create a biodegradable butt that breaks down
within a month of so.
Monofilament fishing line
carelessly discarded on shore entangles sea birds and amputates limbs. That same fishing line in the water strangles animals and cuts deep into their flesh, often keeping animals from foraging successfully. If you see derelict line and lures onshore, carefully dispose of them. Ask fishermen to please be aware and not leave debris behind on the beach.
Sea turtles mistake
balloons and plastic bags
floating in the water for their favorite food, jellyfish. Once ingested, it blocks the digestive tract and they eventually die a slow death. Plastic bags take 500+ years to break down. Even then, they
photo degrade
into minute plastic particles which attract toxins and enter the marine food chain.
A more recent danger to the marine environment are the increasingly popular
sky lanterns
. Beautiful when lit and sent into the night sky, they come back down as unsightly and dangerous trash. They harm wildlife both on shore and in the water. Farmers across England are complaining that
cattle are being strangled by sky lantern wires
and counties are trying to get them banned. Marine life can become entangled in the wires.
Please do your part to help.
Remove trash from the beach or water, as well as streets and sidewalks.
Learn more about marine debris - where it comes from and what you can do to help - on
NOAA's website
.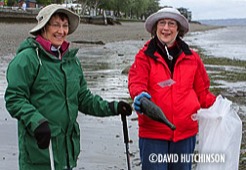 BEACH CLEANUPS

Seal Sitters sponsors annual cleanups of West Seattle beaches. Volunteers from all over the Puget Sound region donate hundreds of hours, removing dangerous trash from beaches and surrounding sidewalks and streets.
Learn more.
RESOURCES

SEAL SITTERS YEAR OF THE SEAL MARINE DEBRIS RESOURCE
PDF file for download.
As part of Seal Sitters
Year of the Seal
educational grant project, we assembled numerous links into one document to help educators of elementary age kids. It's intended as a departure point for learning about marine debris with lots of great resources.
SEAL SITTERS' LET'S TALK TRASH
PDF file for download.
How long does trash last and how can you help?

NOAA MARINE DEBRIS DIVISION
(website)
Learn more about marine debris - where it comes from and what you can do to help.
MARINE DEBRIS LINKS
NETS, FISHING AND
CRAB GEAR
400-POUND CAPE COD TURTLE KILLED BY THREE HUMAN HAZARDS
(November 12, 2015, WCVB-5 Boston)
An endangered leatherback turtle died from three human-caused hazards. The juvenile had swallowed a 3-foot piece of plastic sheeting, a plastic bag and candy wrapper. The turtle became entangled in marine gear. The turtle had been struck by a vessel. It doesn't get much sadder than this.
SUCCESSFUL HUMPBACK WHALE DISENTANGLEMENT ON 6 MAY 2014 OFF GRAYS HARBOR
(May 6, 2014, Cascadia Research Collective)
A young whale entangled in crab pot gear was freed Tuesday by a team from Cascadia Research (a member of NOAA"s West Coast Marine Mammal Stranding Network) and the Coast Guard. Details, including photos, in Cascadia's online report about the disentanglement.
SEA LIONS CUT FREE FROM GARBAGE
(2013, Vancouver Aquarium)
The Vancouver Aquarium's veterinarian, Dr. Martin Haulena, leads a team to free sea lions from fishing gear entanglement off the coast of British Columbia.
LOST FISHING GEAR BECOMING BIG THREAT TO PUGET SOUND MARINE LIFE
(April 8, 2012, Seattle Times)
The death of a rescued seal pup, trapped in an underwater tangle of fishing line, shows the deadly toll of lost fishing gear. Old fishing line, crab pots, lines andhooks ensnare and kill more than half a million sea creatures in Puget Sound every year. Read the full story.
SEA LION ENTANGLEMENT IN MARINE DEBRIS PREVENTABLE, STUDY FINDS
(April 4, 2011, Oregon State University)
Researchers at Oregon State University's Marine Mammal Institute suggests that most Steller sea lion entanglements could be prevented.
CONSORTIUM FOR WILDLIFE BYCATCH REDUCTION
(website)
Understanding bycatch and development of bycatch reduction devices.
MAKE SURE YOU HAVE THE CORRECT ESCAPE CORD ON YOUR CRAB POTS
(July 5, 2009, Seattle Times)
Tips on how to avoid losing pots and how to make your pots safer using biodegradable escape or rot cord, preventing loss of marine life in derelict ghost pots.

ESCAPE CORD: NORTHWEST STRAITS INITIATIVE

Find out how to rig a crab pot correctly with escape cord.


NORTHWEST STRAITS DERELICT GEAR REMOVAL PROGRAM

Recently recognized with the "Salish Sea Science Prize" for their work removing derelict gear, Northwest Straits Foundation has removed more than 5,660 derelict fishing nets and 3,800 shellfish pots from Puget Sound (as of June 30, 2015). Learn more about their work and how derelict gear impacts marine life.


PLASTICS

BIODEGRADABLE PLASTICS NOT BREAKING DOWN IN OCEAN, UN REPORT SAYS
(November 19, 2015, CBS News)
A new report from the United Nations says plastics labelled biodegradable rarely disintegrate in the ocean because they require industrial composters and prolonged exposure to high temperatures to break down.
PLASTICS & MARINE LITTER: MISCONCEPTIONS, CONCERNS AND IMPACTS ON MARINE ENVIRONMENTS
(2015, United Nations Environment Programme/UNEP)
Newly released report. Conditions for breaking down plastics labeled "biodegradable" are rarely if ever met in the marine environment, this disturbing study reveals.
FACTSHEET: PLASTIC BAGS
SPREP pdf file with international statistics on consumption of plastic bags and recycle numbers
CIGARETTE POLLUTION

TOXICITY OF CIGARETTE BUTTS, AND THEIR CHEMICAL COMPONENTS, TO MARINE AND FRESHWATER FISH
Read the scientific study of the toxins contained in cigarette butts and their effects on fish.


NO MORE BUTTS: BIODEGRADABLE FILTERS A STEP TO BOOT LITTER PROBLEM
(2012, Environmental Health News)
Read about the research being done to produce a cigarette filter that biodegrades quickly in the environment.