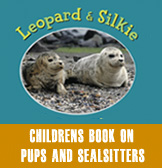 RESOURCES AND LINKS

HARBOR SEALS
Washington Department of Ecology
. Harbor seals in Puget Sound.


Washington Department of Fish and Wildlife
. Harbor seal facts, real-time live seal cam and harbor seal rookery videos.


Seal Conservation Society
. Excellent resource for seals of many species.


wikipedia.org
. In-depth information on harbor seals.


howstuffworks.com
. Information on seals and other pinnipeds.


AUDIO LINKS ABOUT HARBOR SEALS AND OTHER TRUE SEALS

BBC Radio, Britain's Public Radio

A Grey Seal Odyssey
(a 5-part series). "A dramatic and evocative story in sound following Selkie, a male grey seal, as he travels the coast of Britain on an epic journey in search of a mate."

CALIFORNIA SEA LIONS AND STELLER SEA LIONS (NORTHERN FUR SEALS)
wikipedia.org
. Online encyclopedia article on seals, sea lions and other pinnipeds.


NOAA steller species page
.

Wikipedia steller sea lion page
.


The Marine Mammal Center steller species page.
NOAA Steller sea lion management and research in Alaska.
LEOPARD SEALS
A leopard seal, considered one of the fiercest predators in the oceans, befriends a National Geographic photographer.
Leopard seals live in the Antarctic. To learn more about them,
click here.
HELPFUL LINKS
SeaDoc Society
, Orcas Island, WA.
Promotes stewardship of marine mammals and the Salish Sea ecosystem through education and research. Conducts and sponsors scientific research.


The Marine Mammal Center
, Sausalito, CA. The premier marine mammal rescue and rehab facility in the U.S. Please support their important research work with your donations. The Marine Mammal Center was recently featured in the PBS documentary "Ocean Animal Emergency." To watch the NOVA video which explores the work of veterinarians struggling to rescue seals and sea lions,
click here
.


American Cetacean Society
. Education, conservation and research from the world's first cetacean protection agency.


Humane Society of the United States
. The nation's largest animal protection agency and instrumental in attempts to ban the annual Canadian seal hunt.


NRDC
(Natural Resources Defense Council). Environmental action group working actively to protect marine mammals.


Oceana
. International organization focused solely on oceans, conducts science based- campaigns for protecting marine life.


HELP CLEAN UP PUGET SOUND
Puget Soundkeeper Alliance
. A team of dedicated staff and volunteers whose mission is to stop pollution from entering Puget Sound.


People for Puget Sound
. Established to protect and restore the health of Puget Sound land and waters through education and action.


SEAFOOD WATCH

Commercial fishing practices have greatly impacted many species of fish and other marine animals, as well as damaging critical marine habitat. You can make informed choices when you purchase seafood that will help sustain species and maintain abundant oceans. Read about the
Monterrey Bay Aquarium's Seafood Watch
program which educates the public about global fishing practices. Visit the site and download their pocket guide to responsible seafood choices.


BOOKS FOR YOUNG READERS
Click here for books on marine life