THE DUWAMISH WATERWAY: TOXIC SOUP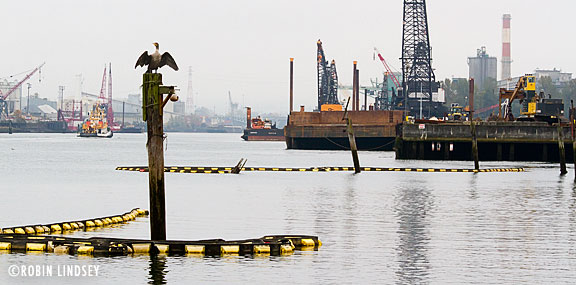 The
US Environmental Protection Agency (EPA)
and the
Washington Department of Ecology
continue to oversee the cleanup of the highly toxic Lower Duwamish River and surrounding land - a dumping ground for industrial waste for over a century. The EPA declared a 32-square mile area a
Superfund site
in 2001 and it is among the nation's most contaminated sites.
Dense with industry, the
Lower Duwamish
empties into Seattle's Elliott Bay. The mouth of the river is divided into two channels by Harbor Island, with its mammoth cranes for container cargo shipping. The man-made island is a complex cleanup site with soils, sediments and groundwaters laced with lead and other metals.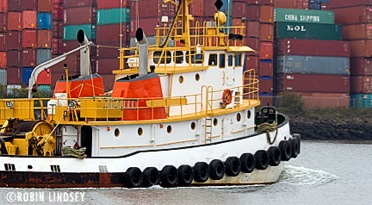 A five mile-long stretch of the waterway has been designated for cleanup of contaminated sediments which contain 41 toxins, including
PCBs
(polychlorinated biphenyls), chlorinated
dioxins
and
furans
, arsenic, lead and other metals, mercury and pesticides. A
recent study
showed that people living in the bordering area have a "shorter life expectancy, higher mortality of lung cancer" and higher rates of other diseases among both adults and children.
UNSAFE FOR PEOPLE, UNSAFE FOR MARINE LIFE

These toxic chemicals have settled in the muddy bottom of the waterway. The contaminants are then ingested by shellfish and other creatures living in that mud and the fish that live and forage in the river, making them
unsafe for human consumption
.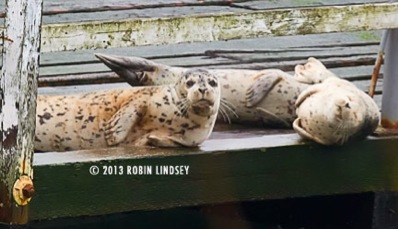 What is unsafe for human consumption is equally unsafe for marine mammals. California sea lions have been showing an
increase in cancer
which researchers believe could be linked to PCBs and contaminants.
In these poisoned Duwamish waters, adult harbor seals and pups forage for food and haul out on the wooden piers and beaches. Since seals don't migrate, they are especially affected by toxins in the river and Main Basin of Puget Sound. Their thick layers of blubber absorb and retain pollutants. Research has discovered a link between contaminants and compromised immune systems of harbor seal pups. Read more about the devastating health impacts of contaminants on seals, orcas and other marine life
here
.
WHAT IS THE PLAN?
The
proposed cleanup
to dredge and cap sites along the Duwamish will take 7 years at a cost of $305 million. While it is the EPA's policy to make polluters pay for pollution they created, this is a complex issue since pollution has been flowing into the Duwamish for over 100 years. The City of Seattle, King County, The Boeing Company and the Port of Seattle (major polluters of the waterway for many decades) have, however, stepped forward to pay for the "studies" and are responsible for cleanup of 5 designated sites. The EPA will attempt to identify other polluters and hold them accountable. Taxpayers and businesses will most certainly bear significant costs (read more here).
A 3-step plan has been developed. It includes preventing further pollution from entering the area during and after cleanup in addition to the process of either dredging and removing toxic soils or capping existing ones.
YOU CAN HELP CLEAN UP PUGET SOUND WATERWAYS
Individuals
do
make a difference. Get involved and please visit the websites of these great organizations: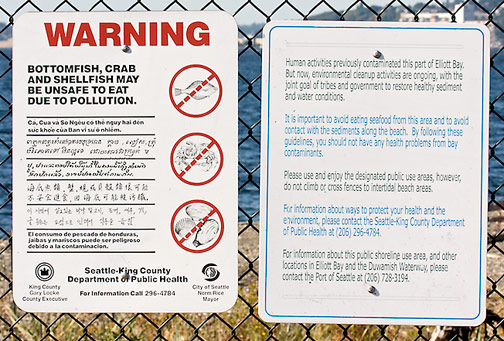 Duwamish Alive Coalition
. Collaborates with community, municipalities, non-profits and business within the Duwamish River Watershed to preserve and enhance habitat for people and wildlife.
Duwamish River Cleanup Coalition.
An alliance of community, environmental and small business groups whose mission is to clean up the Duwamish River.
Puget Soundkeeper Alliance
. A team of dedicated staff and volunteers whose mission is to stop pollution from entering Puget Sound.
People for Puget Sound
. Established to protect and restore the health of Puget Sound land and waters through education and action.
NEWS LINKS ABOUT DUWAMISH CLEANUP AND SUPERFUND SITE
40 BARRELS OF HAZARDOUS MATERIALS DISCOVERED
(September 13, 2013, KIRO7 News)
Crews digging at an 5.5 acre industrial cleanup site next to South Park Marina on the Duwamish River discovered 40 barrels of unknown substance, believed to be hazardous. Also found was a giant underground storage tank containing hazardous materials.
THE DUWAMISH RIVER'S DEADLY CATCHES
(September 10, 2013, Seattle Weekly)
The Duwamish River provides immigrants in South Seattle with food, money and cultural identity. It's also making them sick.
WATER WATCHDOGS WORKING TO CLEAN UP THE DUWAMISH RIVER
(KOMO4 News)
Puget Soundkeeper Alliance patrols the Duwamish River weekly, keeping a watchful eye for polluters.
NEW REPORT RELEASED ON HEALTH IMPACTS OF DUWAMISH RIVER CLEANUP
(May 13, 2013, University of Washington)
A report finds the potential health impacts of the Duwamish River cleanup could be significant for some groups of Native Americans and others who use the Seattle waterway or live or work nearby.
REPORT: MORE ILLNESS, SHORTER LIFESPANS IN DUWAMISH RIVER VALLEY
(March 27, 2013, KPLU Radio)
A new report shows residents of Seattle's Duwamish River valley are exposed to more pollution-caused illnesses and live shorter lives than residents in other areas of Seattle and King County. Story contains audio.
CLEANING UP THE LOWER DUWAMISH WATERWAY SUPERFUND SITE
(March 2013, EPA/WA Department of Ecology)
EPA explanation of contamination of the waterway and cleanup plan.
RECLAIMING THE DUWAMISH RIVER
(April 16, 2011, Seattle Times)
Mostly to satisy his own obsession, West Seattle sailor Neal Chism has made almost 90 trips down the Duwamish in 2 1/2 years, trying to rid its banks of debris.
EPA UNVEILS OPTIONS FOR DUWAMISH CLEANUP
(December 28, 2010, Seattle Times)
The EPA unveiled a draft plan outlining 11 options to clean up the toxic waste contaminating the lower Duwamish.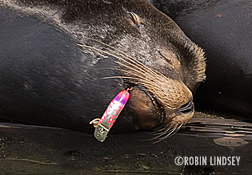 MARINE DEBRIS & ENTANGLEMENTS


Countless numbers (some say millions) of sea creatures suffer injuries or die each year from marine debris and fishing gear entanglements. Did you know 80% of marine trash originates from land? Learn more.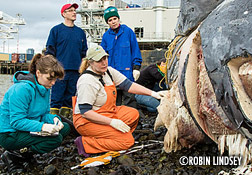 SHIP STRIKES


Large whales are especially vulnerable to injury and death from ship strikes as they migrate along the US coastline. Learn more here.