LA JOLLA SEAL ROOKERY CRISIS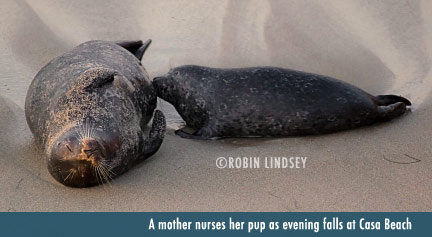 A colony of harbor seals has been the source of years of simmering legal wars in La Jolla, California, an affluent suburb of San Diego. The controversy stems from a group of citizens who wish to drive the seals from Casa Beach (also known as Children's Pool) and restore it to a swimming area for children. The conflict reached a crisis in the spring of 2009 with the seals in imminent danger of being driven from the beach. That battle continues still, with harassment of the seals (see news links below) as animal advocates attempt to protect them.
THE HISTORY
In 1931, a cement sea wall was constructed atop a natural rock shelf in order to create a protected swimming beach. Harbor seals had used that shelf for a
haulout
to rest, warm up, give birth and nurse their young, With that natural haulout reduced, harbor seals began using the small beach in the early 1990's as a rookery to raise their young. However, it is on public historical record that the seals have used the Casa Beach cove and surrounding rocks since the 1880's. This site was recognized as a harbor seal rookery by NOAA in 2001. Read more about the history
here
. These seals have for years used this beach to teach seal pups the skills to survive in the wild. That safe sanctuary is now in jeopardy of being destroyed and poses great risk to young pups.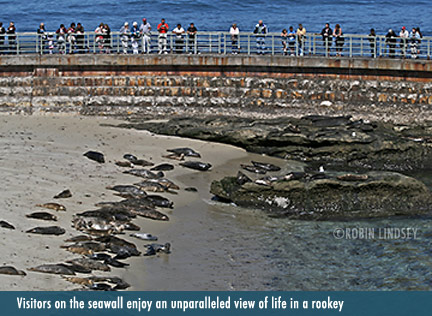 A TRULY WILD CLASSROOM

The Casa Beach rookery, only one of four harbor seal rookeries remaining along the Southern California coast, offers an unprecedented educational opportunity for both adults and children to learn about marine mammals - within the city limits of a major metropolitan city.
From the sidewalk above the beach and along the sea wall below, observers have an unparalleled view of up to 200 seals at a time - in their natural habitat, nursing pups on the beach and teaching them to swim. Some visitors and volunteer docents have been lucky enough to witness the birth of a seal pup. 46 pups were born on the beach in the 2009 pupping season.
However, some people insist that the beach be cleared of the seals so that they can sunbathe and swim. Animals have been routinely harassed over the years.
In February of 2009, the San Diego City Council petitioned the California State Senate to have the beach sanctioned a "marine mammal park for the enjoyment and educational benefit of children" (see news links below). The legislation was introduced by State Senators Kehoe and Fletcher and Assemblywoman Saldan. On June 1, 2009, a federal court ruled that the seals cannot be harassed or dispersed in the interim - halting a proposed plan to drive the seals from the beach before the vote could occur. According to the Animal Protection and Rescue League, a wildlife activist organization involved in the ongoing legal battles, a
2007 poll
showed over 80% of San Diegans and 91% of La Jollans wanted increased protection for the seals.
In February of 2014, the San Diego City Council voted in favor of seasonal closure of the beach annually during Southern California's harbor seal pupping season, December 15 to May 15.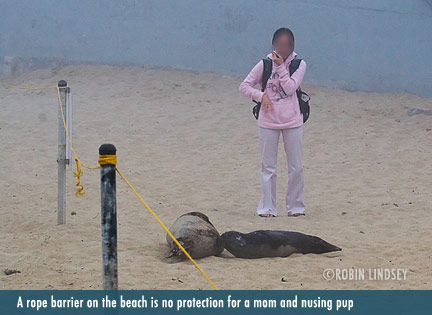 A SMALL BEACH PROVIDES SAFE HAVEN

Humans have increasingly encroached upon the habitat of all wildlife. It is imperative that, when at all possible, we provide safe haven for marine mammals - not just to survive, but to thrive in this world. At Casa Beach there is not only an opportunity to protect them, but a responsibility to do so as well.
This is just one small beach on a coastline that has many beautiful swimming beaches for humans to enjoy - in fact, one within only a hundred or so yards. Casa Beach is one of only a few remaining seal rookeries on the Southern California coast.
It is time that these seals be given the safe sanctuary they deserve after years of harassment. All marine mammals are protected from harassment and harm by the
Marine Mammal Protection Act
.
To stay updated on breaking Casa Beach rookery news,
visit LaJolla's Seal Conservancy website
.
LINKS

SAN DIEGO CITY COUNCIL VOTES TO CLOSE LA JOLLA BEACH IN PUPPING SEASON

(February 24, 2014, Los Angeles Times)
The City Council voted 6 to 3 to close the beach at the Children's Pool (Casa Beach) in La Jolla during the annual five-month pupping season of harbor seals. For two decades, through dueling litigation, the issue of people vs. seal has raged at this beach, costing the city more than $1 million in legal bills.
Read more
.


ROPE AT CHILDREN'S POOL TO STAY YEAR-ROUND

(April 12, 2013, Union Times, San Diego)
A judge ruled Friday that the yellow rope designed to protect the harbor seal colony at Children's Pool (Casa Beach) in La Jolla, CA, can remain year-round.
Read more
.


SEAL VIDEO BRINGS NATIONAL SPOTLIGHT ON ANIMAL ABUSE

(March 21, 2013, CNN)
The recent video of two women abusing seals on a Southern California beach, with both pregnant female harbor seals and newborn pups, has created a firestorm over the abuse of animals.
Read more and view video.
CHILDREN'S POOL TO BE CLOSED NIGHTLY

(March 19, 2013, U-T, San Diego)
San Diego Mayor Bob Filner ordered the Children's Pool (Casa Beach) in La Jolla to be closed from sunset to sunrise through mid-May after video surfaced of seal being sat on, kicked and punched.
Read more
.


WEBCAM CATCHES WOMEN HARASSING SEALS AT CASA BEACH (CHILDREN'S POOL)

(February 18, 2013, AP)
A webcam which was set up to give the public around the world a glimpse into the life of a harbor seal rookery in La Jolla, CA, catches women kicking and tormenting seals (many pregnant) during the night. View the full story and KFMB Channel 8 video segment
here
.


'SEAL CAM' TO LET WORLD SEE SEALS ON THE BEACH IN LA JOLLA

(January 31, 2013, Los Angeles Times)
A night-vision capable camera, aimed at the harbor seal rookery at Casa Beach, has been installed atop the lifeguard tower to show the world the beach where seals lounge and give birth.
Read more.

The seal cam can be viewed
here
on the Western Alliance for Nature website. It is also featured on the homepage of the San Diego mayor's office.


HEARING SCHEDULED FOR ROPE AT CHILDREN'S POOL

(July 6, 2012)
A long-awaited California Coastal Commission hearing is scheduled next Wednesday regarding the harbor seal rookery at the Children's Pool in LaJolla. Seal advocates are petitioning for a rope barrier to be kept up year-round to protect seals from harassment. Currently, the barrier is only up from December-May, the season when pups are being born, nursed and then weaned.
Read more
.


JANE VELEZ-MITCHELL
ISSUES
FEATURES CASA BEACH CONTROVERSY ON CNN'S HEADLINE NEWS NETWORK

(May 13, 2011)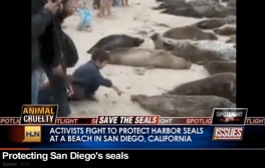 A segment this evening on HLN's
Issues
addressed the controversy on Casa Beach in LaJolla surrounding the harbor seal colony. It discusses the need to establish a rope barrier on the beach year round to protect the seals from harassment. Please click here to
view the clip
.

Many thanks to Jane Velez-Mitchell for her passionate coverage and for giving this story much-needed national visibility.

CITY COUNCIL OKAYS ROPE BARRIER FOR SEALS YEAR-ROUND

(May 18, 2010)
Following release of video footage of people touching and harassing the seals on Casa Beach, the City Council voted to restore the rope barrier year-round and declared an emergency to have it erected immediately on the beach. Additonally, the Council voted to have a ranger patrol the area where the colony resides and keep dogs off the beach. This is considered a major victory for seal activists.
Read the story and see video.
ROPE BARRIER REMOVED, PUTTING LaJOLLA SEALS AT RISK

(May 15, 2010)
The rope barrier which protects the seal colony and newly born pups at Casa Beach has been removed due to the designated end of pupping season. This removal has allowed the public access onto the beach, disrupting the rest cycles of the seals and putting them at extreme risk for injury and other health problems. The San Diego City Council will vote Monday, May 17th, to determine the fate of the seal rookery.
View the Channel 8 coverage here
.

Additional tv coverage here.
Watch video footage of people harassing seals following removal of tape barrier.
Click on link if video below does not play.

JUDGE SAYS SEALS CAN STAY IN LAJOLLA

(November 14, 2009, San Diego)
A judged has ruled that the harbor seal colony that has resided at Casa Beach for more than a decade can remain there and not be forced from the beach by water cannons and recordings of barking dogs.
Read the fully story
.


JUDGE DISMISSES SEAL CASE

(June 30, 2009, La Jolla, CA)
Pro-seal advocates lost a round in court Monday when U.S. District Judge William Q. Hayes dismissed a case that would have required federal permits before the seals could be removed from the Children's Pool beach.
Read more
.


ABC NEWS NIGHTLINE: THE SEAL SHOWDOWN

(June 16, 2009)
ABC's late night hard and soft news program "Nightline" featured a segment on the La Jolla seal situation.
View the video here.
FEDERAL COURT: LEAVE THE SEALS ALONE

(June 1, 2009, San Diego)
A federal court has issued a ruling that the City of San Diego is prohibited from harassing or dispersing the seal colony at Casa Beach in La Jolla. This negates the city's proposal to drive the seals from the beach using recording of barking dogs or other means.
Read the story here.
JUDGE: SEALS MUST LEAVE LAJOLLA CHILDREN'S POOL

(May 27, 2009, San Diego, CA)
A Superior Court judge has given the city of San Diego two weeks to devise a plan to remove a colony of seals from a La Jolla beach. The city plans to use recorded dog barks and possible water cannons to remove the seals from the established rookery. For article and video, please
click here
.


HOW TO MOVE THE SEALS? DOG RECORDINGS

(May 23, 2009, Sand Diego, CA)
According to the San Diego Union Tribune, the city of San Diego plans to broadcast the sound of barking dogs from 6am until dark every day in order to disperse a seal colony at Children's Pool beach in the affluent community of La Jolla. If the recordings fail to drive out the seals, the city will begin to spray water on the animals. The annual estimated cost for this proposed removal of the seals is $688,934. A state law is awaiting approval for a decision on whether the seals should be allowed to remain on the beach and establish a protected marine mammal habitat.
Read the article here
.


SACRAMENTO STEPS INTO THE CHILDREN'S POOL SEALS DEB
ATE

(April 14, 2009, San Diego)
A California state Senate committee signed legislation Tuesday to block the court ordered removal of a colony of harbor seals from a La Jolla beach. The action is one step closer to declaring the beach a designated marine mammal habitat and ending decades of legal battles between the city and animal protectionists.
Read the story here
.


ACTIVIST KNOWN AS GAME-CHANGER IN SEAL CASE

(March 22, 2009, San Diego Union)
Attorney Brian Pease fights to save La Jolla's Casa Beach seals.
Read story here
.


SEALS WIN ROUND OVER CHILDREN'S POOL IN LA JOLLA

(February 17, 2009, Los Angeles Times)
Pro-seal activists won a major round for the seals today as the San Diego City Council agreed to ask for protected marine mammal habitat to Casa Beach in La Jolla, Ca. Read the
LA Times article here
.
For a report from KGTV10 in San Diego, including video and related archived stories, please
click here
.


PRO-SEAL FACTION HOPES FOR VICTORY IN LAJOLLA BEACH DISPUTE

(February 16, 2009, Los Angeles Times)
A group fighting for the rights of seals to remain on a beach in LaJolla, Ca, are hoping for a San Diego City Council victory. The advocates want the state Legislature to add "marine mammal habitat" to the Casa Beach uses. The cove is one of the last remaining harbor seal rookeries along the Southern California coast. Read the full
LA Times article here
.