BREAKING NEWS ON MARINE MAMMALS AND THE MARINE ENVIRONMENT

From toxic algae blooms, oxygen-depleted
dead zones
, sea star
wasting disease
and California's sea lion pup and Guadalupe fur seal crises to stories of marine mammal rescues - these are the types of local, national and international news stories you will find here.
(For additional stories about seal pups and other marine mammals and day to day stranding network activities,
visit Seal Sitters' blubberblog.
)

SEA LION CRISIS IN CALIFORNIA LINKS

DECLARED AN UNUSUAL MORTALITY EVENT
(jump to news links on other marine mammal and environmental topics)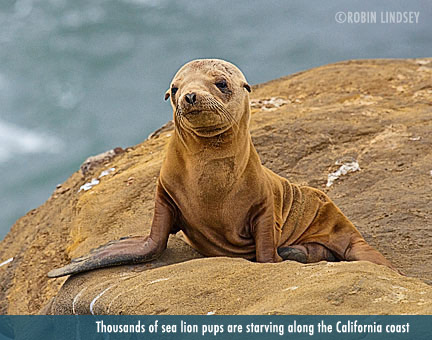 Over the past few years, marine mammal stranding networks and rehabilitation facilities in California have been working in crisis mode. Thousands of scrawny sea lion pups and yearlings have shown up on shore - alone, weak and emaciated.


And things just continue to get worse. In fact, from January - May of 2015, stranding
networks reported 3,340 sick or dead pups
. The numbers are simply staggering - over 10 times the average stranding level for the same 5 month period during 2004-2012.
Read NOAA's fact sheet about the strandings
.


Scientists have been scrambling to figure out why and veterinary teams are overwhelmed, struggling to save as many animals as they can. All the while, more animals strand daily. So many sea lion pups have stranded since 2013, that NOAA has declared an
unusual mortality event
in California.


What is the reason? According to scientists, it's most likely that unfavorable water conditions and weather patterns in the Pacific have caused the sardine population to crash. Overfishing of sardines hasn't helped either. This small, energy-rich forage fish makes up a substantial part of sea lions' diet along the coast of Central and Southern California. Nursing sea lion females depend on prey that's close to shore - and their pups.


News links below show the increase in CA sea lion pup strandings over the past number of years:
2013-2015 CALIFORNIA SEA LION UNUSUAL MORTALITY EVENT IN CALIFORNIA
(NOAA Fisheries)
Elevated strandings of California sea linen in Southern California since January of 2013 has been declared an Unusual Mortality Event (UME).

NUMBER OF STARVING SEA LIONS IN CALIFORNIA "UNPRECEDENTED"
(June 5, 2015, National Geographic)
Marine mammal rehabilitation centers are overwhelmed in California with thousands of starving sea lion pups.


RECORD NUMBER OF SICK, STRANDED SEALS AND SEA LIONS FOUND ALONG NORTHERN CALIFORNIA COAST
(May 5, 2014, 5KPIX-TV, CBS)
A marine mammal rescue group said Monday it's seeing a record number of stranded sea lions and seals along the northern and central coast of California - some of whom appear to have been sickened by toxins and others weaned by their mothers earlier than usual.
RECORD CALIFORNIA SEA LION STRANDINGS REACH 2,250 SO FAR THIS YEAR

(April 6, 2015, Reuters)
Warming seas have disrupted sea lions' food supply and a record 2,250 starving pups and yearlings have shown up stranded on Southern California beaches.


RECORD NUMBER OF STRANDED SEA LION PUS STRAINING CALIFORNIA RESOURCES
(March 20, 2015, National Public Radio) Audio report.
Warm waters are pushing prey further off the coast. Sea lion moms are leaving pups too long while searching for food, forcing hungry pups to search on their own.
WHY DID 1,800 SEA LION PUPS WASH ASHORE IN CALIFORNIA?
(March 18, 2015, CBS News)
Waters off the California coast are 2-6 degree above the long-term average, pushing the fish that sea lions eat further away from shore. Mothers are forced to leave their pups alone up to 8 days while they travel in search of food. Starving pups are venturing off on their own, ending up emaciated on beaches.
WEST COAST SARDINE CRASH COULD RADIATE THROUGH ECOSYSTEM
(January 5, 2014, LA Times)
The biggest sardine crash in generations, which has made schools of the small, silvery fish a rarity on the West Coast could cause sea lions, brown pelicans and other predators dependent on the energy-rich fish to suffer for years. Read more about scientists' warnings.
CRASH IN SARDINE POPULATION MAY EXPLAIN SICK SEA LION PUPS
(January 5, 2014, LA Observed)
Cold water off California's coastline may be part of the cause of an alarming crash in the number of sardines. The lack of the mineral-rich fish may have forced sea lion mothers to eat less-fatty prey, producing less nutritious milk for their pups. Approximately 1,600 malnourished young sea lions stranded along the California coast last year. Brown pelicans are also showing signs of hunger most likely due to the decline of sardines.
DEADLY SEA LION MYSTERY DRAWS BIOLOGISTS TO REMOTE ISLAND IN SEARCH OF CLUES
(August 16, 2013, Wired Magazine)
Scientists study a sea lion colony on Southern California's San Miguel Island to try to determine why thousands of sea lion pups died last year and many more stranded on coastal beaches.
SAVING SEA LION PUPS
(March 17, 2013, ABC News)
View ABC News video segment, rescue of emaciated sea lion pups in California. Hundreds are showing up along the coast as marine mammal centers struggle to save them.
FOR STRUGGLING SEA LION PUPS, A LOT OF HEALTHY ATTENTION
(March 12, 2013, Los Angeles Times)
From Santa Barbara to San Diego, marine mammal sanctuaries have taken in waves of emaciated sea lion pups at rates significantly higher than the norm. Some of the pups found on Southern California beaches were eight months old but still weighing what they did at birth.
SEA LION PUPS STARVING ALONG CALIFORNIA SHORELINE
(March 28, 2010, NPR)
Starved and emaciated, sea lion pups are beaching themselves along the Pacific Coast.
A strong El Nino tropical weather pattern is to blame. Unusually warm sea surface temperatures in the western Pacific are moving east, forcing the sea lions' natural food sources - squid, hake, herring and anchovies - to seek out cooler waters. Adult sea lions have enough fat stored up to survive the resulting food shortage, but their pups aren't so well-equipped.
BAD YEAR FOR SEA LIONS, STARVING PUPS WASHING UP ALONG CALIFORNIA BEACHES
(March 12, 2010)
Sea lions are having a hard time finding food this spring, and pups are feeling the squeeze. Marine mammal experts report that dozens of sick and hungry sea lion pups have washed up on California shores this winter, many not making it even with the help they get at rescue centers. Researchers are blaming a lack of food.
HARD TIMES FOR YOUNG SEA LIONS
(Feb 21, 2010, San Jose Mercury News)
Researchers monitoring the sea lion population at Ano Nuevo Island Reserve this past summer noticed an odd and troubling trend - several starving yearlings. In 2009, the mortality rate for pups on San MIguel Island, off Santa Barbara shot up to nearly 80 percent in the third month, from a typical 30%.
SICK SEA LION PUPS AND SEALS STRANDED AT RECORD PACE
(June 17, 2009, Laguna Beach, CA)
The Pacific Marine Mammal Center in Laguna Beach, Ca, is experiencing a record number of ailing sea lion pups and seals stranded along the Orange County coastline. The numbers are up a dramatic 74 percent compared to last year. NOAA believes the cause could be contributed to climate change and lack of food. Most of the sea lion pups are extremely malnourished and many have died.
NEWS LINKS ABOUT OTHER MARINE LIFE TOPICS
RESEARCHERS HAVE DOCUMENTED ALGAE-RELATED TOXINS IN ARCTIC SEA MAMMALS
(February 11, 2016, Alaska Dispatch News)
A new NOAA study reveals that toxins produced by harmful algal blooms are showing up in Alaska marine mammals for the first time as far north as the Arctic Ocean.
STATE OF THE BAIT: STUDY YIELDS INSIGHT ON TINY FISH
(January 18, 2016, Kitsap Sun)
A Washington Department of Fish and Wildlife study has been launched to analyze mounting evidence that Puget Sound's forage fish are declining - bad news for salmon, seabirds and marine mammals.
MASSIVE MURRE DIE-OFF LINES WHITTIER BEACHES WITH CARCASSES
(January 5, 2016, Alaska Dispatch News)
Thousands of dead common murres, underweight and emaciated, are washing up on Prince William Sound beaches.
SCIENTISTS UNRAVEL WHALE ENTANGLEMENT DAMAGE
(December 14, 2015, Ellsworth American)
Scientists from Woods Hole Oceanographic Institution have released findings form a new study on the damage fishing gear entanglements does to North Atlantic right whales.
NEW ZEALAND FUR SEAL STILL SQUATTING ON OPERA HOUSE STAIRS ONE YEAR ON
(October 12, 2015, ABC)
A juvenile fur seal has been hauling out and basking on the steps at New Zealand's Sydney Opera House for the past year.
GUADALUPE FUR SEALS DYING AT AN ALARMING RATE
(October 1, 2015, Los Angeles Times)
Eighty Guadalupe fur seals have been found stranded on California's beaches since January. Ones found alive were severely emaciated. It is believed warming waters are the cause. Guadalupes are a
threatened
species.
2015 GUADALUPE FUR SEAL UNUSUAL MORTALITY EVENT IN CALIFORNIA
(September 28, 2015, NOAA Fisheries)
Increased strandings of Guadalupe fur seals have occurred along the entire coast of California at a rate 8 times higher than normal. The event has been declared an
unusual mortality event
.
TOXIC ALGAE IS KILLING SEA LIONS, SHOWS NO SIGN OF DIMINISHING
(August 17, 2015, KQED Science)
A vast and deadly toxic plankton soup is sickening and killing wildlife along the Pacific Coast, with no end in sight.
SEAL ESCAPES KILLER WHALES BY JUMPING IN BOAT OFF B.C. COAST
(August 17, 2015, CTV News)
A harbor seal jumped onto a Zodiac boat to avoid being caught by transient orcas
SEAL PUP SURROUNDED BY COWS AFTER GETTING STRANDED IN LINCOLNSHIRE FIELD
(July 20, 2015, The Daily Mail)
An orphaned seal pup, in the middle of a muddy English field was noticed by a birdwatcher, curious about the behavior of a herd of cows. The pup apparently came up a small creek.
MASSIVE ALGAE BLOOM CAUSING SEIZURES IN SEA LIONS
(June 17, 2015, KING 5 News)
A massive algae bloom stretching from California to Alaska has started to impact sea lions on Washington coast.
TOXIC ALGAE BLOOM IN PACIFIC OCEAN COULD BE LARGEST EVER
(June 17, 2015, CBS News)
A toxic algae bloom with the highest concentrations of harmful toxins ever observed is off the U.S. Pacific Coast and causing an increase in deaths of sea lions, dolphins and pelicans.
TOXIC ALGAE BLOOM SHUTS DOWN WEST COAST FISHERIES
(June 19, 2015, Los Angeles Times)
Toxic waters may be contributing to high numbers of sea lion and other marine mammal strandings in California.
SEAL PENISES TO ENHANCE PERFORMANCE? THE CANADIAN GOVERNMENT IS DESPERATELY SEEKING NEW MARKETS FOR SEAL PRODUCTS
(June 12, 2015, IFAW)
A Canadian government study recommends killing 140,000 grey seals in the Gulf of St. Lawrence to market their penises to Asian markets.
FAKE ORCA NEARLY DROWNS BEFORE IT CAN SCARE OREGON SEA LIONS
(June 5, 2015, Associated Press)
A life-size fiberglass orca, intended to scare away hundreds of sea lions at the public docks in Astoria, Oregon, went belly up.
BEACH BALLS USED IN ASTORIA'S BATTLE TO KEEP SEA LIONS OFF DOCKS
(May 28, 2015, Associated Press)
Electrified mats didn't work. Neither did chicken wire or colored flagging tape. The City of Astoria, Oregon, near the entrance to the Columbia River hopes beach balls will do the trick to keep thousands of sea lions from using the city docks.
NOAA FISHERIES PROPOSES ARCTIC RINGED SEAL CRITICAL HABITAT, SEEKS PUBLIC COMMENT
(December 2, 2014, NOAA)
In December of 2012, NOAA Fisheries declared four subspecies of ringed seals in Alaskan waters, including the Arctic ringed seal, as threatened or endangered under the Endangered Species Act (ESA). Now, after extensive input from local and state governments, Native partners, and the public to determine critical habitat areas off Alaska's coast, NOAA has released the
proposed protected designations
for public comment. Rising temperatures from global warming are a direct threat to Arctic seals who rely on ice floes for resting, breeding and nursing and on snow caves to protect pups. Read more about ringed seals, the smallest of the northern seals, and the proposed habitat on NOAA's dedicated webpage.
RESCUERS SAVE HUMPBACK WHALE FROM UNLIKELY TRAP
(May 8, 2014, FOX 13)
Cascadia Research helped untangle a gray whale off Gray's Harbor on the outer coast of Washington.
For additional details, including photos, view Cascadia's report about the disentanglement
on their website
.
MOTHER SEAL RUN OVER AND KILLED ON WASHINGTON BEACH
(May 3, 2014, KGW-TV, Portland)
A mother seal was intentionally run over on a beach on Washington's southwest coast in the town of Ocean Park. The seal gave birth on April 19th and was being periodically monitored by volunteers who had established a protective area, clearly marked with construction cones and tape around the nursing mom and her pup. On the morning of the 20th, the female was found near death with her tail severed - she had been run over by a truck. The seal was euthanized by authorities and the pup is missing.
SAN DIEGO CITY COUNCIL VOTES TO CLOSE LA JOLLA BEACH IN PUPPING SEASON
(February 24, 2014, Los Angeles Times)
The City Council voted 6 to 3 to close the beach at the Children's Pool (Casa Beach) in La Jolla during the annual five-month pupping season of harbor seals. For two decades, through dueling litigation, the issue of people vs. seal has raged at this beach, costing the city more than $1 million in legal bills.
IS CLIMATE CHANGE INCREASING THE DISEASE RISK FOR ARCTIC MARINE MAMMALS?
(February 14, 2014, National Geographic)
Ice-free parts of the Arctic are now open to an influx of deadly parasites, now found in marine mammals in the region.
NAVY TO EXPAND SONAR TESTING DESPITE MARINE-LIFE CONCERNS
(December 15, 2013, Associated Press/Seattle Times)
The U.S. Navy plans to increase sonar testing over the next five years, even as research it funded reveals worrying signs that the loud underwater noise could disturb whales and dolphins.
OBAMA ADMINISTRATION PRAISED FOR PROTECTING ENDANGERED WHALES FROM DEADLY STRIKES
(December 6, 2013, Humane Society of the United States)
The Obama administration has announced that it is permanently requiring certain ships to slow down in designated areas to protect critically endangered right whales.
HOW WHALES LOSE THEIR WAY: TIDES, TOXINS AND OTHER TROUBLES
(December 5, 2013, NBC News)
How did dozens of pilot whales get so seriously stranded in Florida's Everglades National Park? Read more here about the potential causes - including the highly contagious morbilivirus.
WHALE RESCUE EFFORT CONTINUES IN FLORIDA'S EVERGLADES AS PODS MOVE TO DEEPER WATERS
(December 5, 2013, NBC News)
Three pods of pilot whales were moving into deeper waters of Florida's Everglades National Park after being discovered stranded in shallow waters Tuesday night in a remote area. 10 whales had died by the time volunteers and scientists reached the scene and another 41 remain in grave danger.
A NORTH ATLANTIC MYSTERY: CASE OF THE MISSING WHALES
(November 26, 2013, Yale Environment 360)
For the past two years, numbers of feeding North Atlantic right whales have dwindled to record lows in Canada's Bay of Fundy. As curious as where the right whales aren't is where they now are - appearing in Cape Cod over the winter. It's clear to scientists that the whales' new itinerary must signal a shifting food supply.
MISSING ENDANGERED RIGHT WHALES SPARK CONCERNS
(November 6, 2013, Cape Cod Times)
Scientists contemplate why for the past two years, most of the 510 remaining North Atlantic right whales have not shown up at their usual feeding grounds in the area from Buzzards Bay to the Canadian border.
DOLPHIN-KILLING VIRUS REACHES FLORIDA AND IS INFECTING WHALES, TOO
(November 8, 2013, NBC News)
In July of this year, bottlenose dolphins began dying off along the Northeastern seaboard, infected with a highly contagious measles-like virus (morbilivirus). As Atlantic dophin herds have migrated south, diseased and dead dolphins and two species of whales have turned up dead in Florida.
WHAT'S EATING STARFISH? MYSTERY THREATENS POPULATIONS ON BOTH COASTS
(October 28, 2013, NBC News)
A grisly disease is decimating starfish populations on both North American coasts. Brown University researcher Gary Wessel believes a change in ocean temperature and a new bacterium or virus could be the cause.
WHALE MYSTERY BAFFLES EXPERTS
(October 4, 2013, The Chronicle Herald, Nova Scotia CA)
Fisheries and Oceans Canada is asking the public to help them determine why right whales are missing from the
Bay of Fundy
. Only five of the endangered marine mammals have been spotted in the waters that separate Nova Scotia and New Brunswick this season - the lowest number recorded in the bay in the past 30 years.
40 BARRELS OF HAZARDOUS MATERIALS DISCOVERED
(September 13, 2013, KIRO TV)
Port of Seattle officials discovered 40 barrels of unknown and believed hazardous substance as well as an underground storage tank in the South Park neighborhood along Seattle's Duwamish River.
HOW MUCH ARE SEA OTTERS WORTH ON THE CARBON MARKET?
(September 2, 2013, ThinkProgress)
Kelp beds protected by otters absorb 12 times more carbon dioxide than those thinned out by urchins, according to the researchers studying off the coast of Alaska's Aleutian Islands. Around the world, ecosystems which keep carbon dioxide locked up and out of the atmosphere are getting more and more attention.
GOVERNMENT SLASHES FUNDING FOR MARINE MAMMAL RESCUE
(September 5, 2013, Wired Magazine)
Dozens of marine mammal stranding networks across the country learned on Tuesday that they wouldn't be getting any federal financial help for the next year. This latest series of drastic cuts will greatly impact the ability to respond to marine mammals and perform research about mortality and emerging disease.
SEA CHANGE: THE PACIFIC'S PERILOUS TURN
(Seattle Times and PBS News Hour)
The Seattle Times explores how ocean acidification could alter the seas on a scale almost too big to fathom.
Watch the documentaries.


NOAA; VIRUS LIKELY CAUSING DOLPHIN DEATHS
(August 27, 2013, Seattle Times)
Federal officials identified a virus Tuesday as the likely reason hundreds of bottlenose dolphins died along the East Coast, but they say there's little they can do to stop the deaths.
ACIDITY IN OCEAN KILLED NW OYSTERS, NEW STUDY SAYS
(August 12, 2013, Seattle Times)
Researchers said Wednesday they have conclusive evidence that ocean acidification is at least partly responsible for killing oysters on the West Coast.
NOAA FISHERIES DENIES APPLICATION TO IMPORT 18 BELUGA WHALES FOR PUBLIC DISPLAY
(August 6, 2013, NOAA)
NOAA Fisheries today announced it is denying the Georgia Aquarium's request for a permit to import 18 beluga whales from Russia for public display in the United States. The decision was based on requirements of the Marine Mammal Protection Act (MMPA).
DOLPHINS CAN RECOGNIZE CALLS FROM OLD TANK MATES FROM 20 YEARS AGO
(August 6, 2013, Washington Post)
A scientist has found that dolphins can recognize an old friend's whistle, even after they have been apart for 20 years - the longest social memory ever recorded for a non-human.
NOAA: PUGET SOUND KILLER WHALES TO STAY PROTECTED
(August 2, 2013, Seattle Times)
Killer whales that spend their summers in Puget Sound are a distinct population group and will remain protected under the Endangered Species Act, the National Oceanic and Atmospheric Administration announced Friday.
SEALS TELL TALES OF SOUND'S HEALTH
(May 29, 2013, Seattle Times)
While they don't have the glamorous allure of that other marine mammal of Puget Sound, orca whales, harbor seals are key sentinel species in Puget Sound. Read the full article by Lynda Mapes, environmental reporter for the Seattle Times.
WHO WOULD KILL A MONK SEAL?
(May 12, 2013, New York Times)
The mysterious killings of endangered monk seals in Hawaii have all the markings of a fictional drama. But they're very real - and very much embroiled in political intrigue
.

SCIENTISTS TRACK GIANT WHALES BY THEIR EARTHSHAKING CALLS
(May 11, 2013, Seattle Times)
UW scientists are using seafloor seismometers to pick up booming calls from endangered fin whales and track their movements off the Northwest coast.
ROPE AT CHILDREN'S POOL TO STAY YEAR-ROUND
(April 12, 2013, Union Times, San Diego)
A judge ruled Friday that the yellow rope designed to protect the harbor seal colony at Children's Pool (Casa Beach) in La Jolla, CA, can remain year-round.
SEAL VIDEO BRINGS NATIONAL SPOTLIGHT ON ANIMAL ABUSE
(March 21, 2013, CNN)
The recent video of two women abusing seals on a Southern California beach, with both pregnant female harbor seals and newborn pups, has created a firestorm over the abuse of animals.
CHILDREN'S POOL TO BE CLOSED NIGHTLY
(March 19, 2013, U-T, San Diego)
San Diego Mayor Bob Filner ordered the Children's Pool (Casa Beach) in La Jolla to be closed from sunset to sunrise through mid-May after video surfaced of harbor seals, many of them pregnant, being sat on, kicked and punched.
WASHINGTON STATE HOUSE PASSES BILL TO BAN FLAME RETARDANTS
(March 8, 2013)
The Washington House of Representatives passed a bill this week banning the use of flame retardants TCEP and TDCPP. These toxic flame retardants are commonly found in children's clothing and furniture, but end up in our air, waterways and marine life. Dolphins, orcas and seals (animals at the top of the food chain) are highly contaminated from these toxins. The bill, Toxic Free Kids and Families Act HB1294, would go into effect on July 1, 2015, but still needs to pass the State Senate.
Exposure to flame retardants causes physical abnormalities (including that of the brain, impairing the development of motor activities and cognition), behavioral changes, impairs reproduction and causes immune disorders.
Read more
about flame retardants and how you can help.
WEBCAM CATCHES WOMEN HARASSING SEALS AT CASA BEACH (CHILDREN'S POOL)
(February 18, 2013, AP)
A webcam which was set up to give the public around the world a glimpse into the life of a harbor seal rookery in La Jolla, CA, catches women kicking and tormenting seals (many pregnant) during the night. View the full story and KFMB Channel 8 video segment here.
Read more about the controversy at Casa Beach
here
.
NOISY SHIPS, FERRIES CREATE RACKET BELOW PUGET SOUND
(January 3, 2013, The Seattle Times)
Recent work by University of Washington researchers shows noise in some Puget Sound shipping channels regularly meets or exceeds levels the federal government suggests may be harmful to marine life.
NEW BABY ORCA BORN TO J POD
(August 7, 2012, Seattle Times)
A new baby has been born to Puget Sound's resident J pod. The baby is believed to have been born on Monday
.

LOST NORTHERN FUR SEAL SHOWS UP ON HAWAII BEACH
(August 2, 2012, Associated Press)
An emaciated and weak northern fur seal, normally be found in Alaskan or West Coast waters, has shown up thousands of miles away in Hawaii, according to a NOAA marine mammal response coordinator. This is the first time a seal of this species has been recorded in Hawaii. The seal was transported to a Hawaiian zoo for treatment in hopes that she can eventually be returned to the wild.
Related video story:
SEAL FOUND A LONG WAY FROM HOME
.
BRANCH WILL BEGIN WARFARE TRAINING IN WATERS TEEMING WITH WHALES AND DOLPHINS
(July 16, 2012)
The US Navy has plans to employ sonar and explosives as part of its training program in the waters off Southern California and Hawaii - activities that will deafen, kill, or injure thousands of marine mammals.
'UNPRECEDENTED' KILLINGS OF PROTECTED SEA LIONS; FISHERMEN SUSPECTED
(June 5, 2012, US News/MSNBC)
Two Pacific Northwest sea lions found shot dead this week, along with at least 18 others in the last two months, make up what one expert call an "unprecedented" attack on marine mammals protected by federal law.
TWO MORE SEA LIONS SHOT TO DEATH ALONG OREGON COAST
(June 4, 2012, The Oregonian)
For the second time in as many days, researchers were called Monday to the coast to necropsy a sea lion. And like the first, this one had also been shot.
That brings to about 20 the number of dead sea lions found in Northern Oregon and Southern Washington in just two months. Almost all bore clear evidence of gunshot wounds, others showed obvious trauma also likely caused by gunshots, said Dalin D'Alessandro, a Portland State University research assistant with the Northern Oregon-Southern Washington Marine Mammal Stranding Network.
PORPOISE DEATHS RAISE ALARMS ABOUT HEALTH OF PUGET SOUND
(May 12, 2012)
Three dead porpoises have washed ashore on Whidbey Island in a matter of days, and now some experts are wondering if the animals were ill - or the cause of their deaths is something worse
.

HUMPBACK WHALES INTERVENE IN ORCA ATTACK ON GRAY WHALE CALF
(May 8, 2012)
In what is probably the first time such an event has been witnessed and recorded, humpback whales appeared to try to intervene when a pod of killer whales attacked a baby gray whale
.

POSSIBLE LINK BETWEEN WHALE'S DEATH, CANADIAN WAR GAMES
(April 9, 2012)
A US government agency has launched an investigation into whether Canadian war games were responsible for the death of a killer whale that washed up in Washington State in February.
LOST FISHING GEAR BECOMING BIG THREAT TO PUGET SOUND MARINE LIFE
(April 8, 2012)
The death of a rescued seal pup, trapped in an underwater tangle of fishing line, shows the deadly toll of lost fishing gear. Old fishing line, crab pots, lines andhooks ensnare and kill more than half a million sea creatures in Puget Sound every year. Read the full story.
Read the story of
seal pup Sandy's rescue, rehab and death
on Seal Sitters' blubberblog.
US, RUSSIA TO COUNT SEALS IN BERING SEA
(April 2, 2012)
US and Russian researchers this week will begin flights over Bering Sea ice to determine how many ice-dependent seals are out there. Scientists will count ringed and bearded seals, which NOAA has recommended for listing as threatened species due to climate warming. Ribbon seals and spotted seals will also be counted.
Related story:
Ribbon seal sighted in Puget Sound
.
INCREASING PRESSURE TO HARVEST SMALL FISH WORRIES SCIENTISTS
(March 15, 2012, Seattle Times)
Ocean scientists worry that pressure to harvest small schooling fish such as herring, smelt and sardines could have serious consequences for other sea life. The loss of these tiny fish could have profound impacts throughout marine ecosystems - far more so, even, than the loss of some well-known predators.
ARCTIC RIBBON SEAL SPOTTED IN SEATTLE
(January 23, 2012, Seattle Times)
A ribbon seal usually found in Arctic waters has been spotted in the Seattle area.
Related stories on Seal Sitters blubberblog
here.
DOZENS OF STORM-BATTERED SEAL PUPS RESCUED BY RSPCA
(January 6, 2012, BBC)
Rough winter storms came at the worst possible time for seal pups along the coast of England. Over 60 rescued pups are being treated at a rehab facility.
RASH OF HAWAIIAN MONK SEAL KILLINGS
(January 5, 2012)
Two critically endangered Hawaiian monk seals were found bludgeoned to death on a Molokai in recent weeks. Earlier this month, a dead seal showed up on Kauai. A fourth possible killing on Molokai is also being investigated. The deaths have come as the federal government steps up its efforts to protect the seals, causing backlash from some fishermen. There are only 1,100 left in the world and scientists say they are on course to vanish in 50-100 years.
CLIMATE CHANGING OUTLOOK FOR HARP SEALS
(January 5, 2012, BBC)
According to researchers from Duke University, warming oceans and melting sea ice may have a major impact on harp seals, the animals which are hunted by Canada's annual seal hunt. Seals are dependent on ice for breeding, nursing and resting.
BABY SEAL SNEAKS INTO NZ HOME, NAPS ON COUCH
(December 15, 2011)
A seal pup managed to cross a busy road and enter a New Zealand home through a cat door. The pup was found sleeping on the homeowner's couch. Apparently, Lucky, has visited neighborhoods twice before and had to be returned to the sea. The Department of Conservation picked up the animal from the residence, but Lucky managed to escape from his container inside the vehicle and turn on the radio before being released on the beach.
BODIES OF SIX MURDERED SEALS FOUND IN CAPE COD
(June 11, 2011)
Six gray seals have been killed on Cape Cod, Mass, beaches over the past five weeks, all of them shot and "suffering greatly," a federal official investigating the deaths said.
Related story,
Seals divide Chatham views
.
NOAA APPROVES REMOVAL OF SEA LIONS AT BONNEVILLE
DAM
(May 15, 2011, Associated Press)
Oregon and Washington have been given permission to resume removing or killing California sea lions at Bonneville Dam on the Columbia River, a federal agency said Friday.
SEA LIONS FEED ON STURGEON AT BONNEVILLE DAM
(February 26, 2011)
Oregon and Washington fishery agencies petitioned to remove Steller sea lions from federal protection - it is listed as "threatened" under the Endangered Species Act. Key to that is to count how many salmon, steelhead and sturgeon the Stellers take.
The decline led Oregon and Washington this month to put the tightest limits ever on sport and commercial sturgeon fishing, the fourth straight year of cuts. While the states are about to adopt a conservation plan, most biologists and fishermen fear a continued decline of sturgeon, and an eventual halt to all sport and commercial fishing.
SURVEYOR SEALS REVEAL SECRETS OF ANTARCTIC DEPTHS
(November 8, 2010)
Seals are helping scientists map the Antarctic ocean floor and are providing valuable data that might reveal the reasons for rapidly melting ice.
BABY SEALS SAVED, RETURNED TO WILD - THEN WHAT? SCIENTISTS NOW TRACK THEM
(October 26, 2010, Seattle Times)
Puget Sound harbor seals that have been rehabilitated are being fitted with transmitters to see how they fare. Every year hundreds of stranded harbor seal pups are rescued and rehabilitated from beaches all over the country. But little is known about what happens to those animals once they are returned to the wild
.

NOT THE BEST SOUVENIR: COUPLE TAKES FOUND SEAL PUP BACK TO HOTEL
(June 25, 2010)
A young couple on vacation to the Washington Coast illegally picked up an "abandoned" seal pup, taking him back to their hotel room before calling authorities the following day.
STRANDED SEA LION RESCUED FROM SEATTLE BEACH
(April 19, 2010)
Seal Sitters responded to reports of a stranded sea lion on Golden Gardens beach in Ballard. The injured and underweight California sea lion was removed from the beach by NOAA and WDFW. The sea lion died overnight and necropsy revealed a broken sternum and internal bleeding.
All related stories and news videos here.
ANGER MOUNTS AS SEA LIONS ARE KILLED FOR EATING ENDANGERED FISH
(April 2, 2010)
Year to date, six healthy sea lions have been euthanized by Oregon state wildlife officials under a federal program allowing them to be killed if caught eating salmon at the Bonneville Dam, located on the border of Washington and Orgeon. Hungry sea lions have discovered that the dam is an excellent place to feast on fish as they gather at the base of the dam and attempt to scale the 6-story high fish ladder. Wildlife advocates argue that fishermen take 4 times as many fish as the feeding sea lions.
WORST ICE YEAR KILLS CANADIAN SEALS BEFORE HUNTERS CAN
(March 26, 2010)
Thousands of harp seal pups are presumed dead in Canada's Gulf of St. Lawrence and starving pups are being found abandoned on the beaches of Prince Edward Island, victims of the worst ice conditions ever recorded in the region. The annual birthing grounds are virtually devoid of both ice and seals. Despite this devastating impact on the harp seal population, the Canadian government has increased the quota for this year's seal hunt.
SEAL PUP ONE OF THOUSANDS STRANDED ON CANADIAN BEACH DUE TO ICE SHORTAGE
(March 25, 2010)
Tens of thousands of harp seal pups have washed up on Canada's Gulf of Saint Lawrence beaches during the worst ice conditions ever reported in the region.
CANADIAN SEAL QUOTA INCREASED BUT WEATHER MIGHT KILL HUNT
(March 15, 2010)
Despite an increased risk to the survival of this year's seal pups due to lack of sea ice, the Canadian government has increased the number of seals to be killed this season to 330,000.
SECRET LIFE OF SEALS: BIOLOGIST STUDIES THE ODD ANIMALS - AND THEY STUDY HIM
(March 5, 2010, LA Times)
Scientist Brent Stewart has studied elephants for 31 years and knows they are watching him. Read this fascinating article about his experiences with the seals of San Miguel Island, the westernmost island of the Channel Islands off the coast of Santa Barbara, California.
FIRST SEA LION OF YEAR KILLED FROM BONNEVILLE DAM
(March 4, 2010, Seattle Times)
Oregon's Department of Fish and Wildlife says it has killed its first fish-eating sea lion this year after capturing it at Bonneville Dam. A department spokesperson says the seal lion killed Wednesday is one of 64 on a list authorized for euthanasia.
CANCER KILLS MANY SEA LIONS, AND ITS CAUSE REMAINS A MYSTER
Y
(March 4, 2010, New York Times)
For 14 years, since they first reported that a disturbing proportion of deaths among rescued California sea lions were caused by metastatic cancer, researchers have been trying to pinpoint the source of the illness.
SEAL HUNT TO BEGIN IN NOVA SCOTIA THIS WEEK
(Feb 13, 2010)
The annual Canadian seal slaughter is scheduled to start this week in Eastern Canada. An anti-sealing organization plans to film the hunt and distribute the images to encourage a tourism boycott, a spokeswoman said.
Sealers are prohibited from using guns on the small island, so they use clubs to kill the seals. Curran said she saw sealers herd the animals into a group before killing them, a practice that has been condemned as inhumane by agencies such as the European Food Safety Authority, Curran said. .
SEA LIONS SEAL FOUND SHOT TO DEATH IN WEST SEATTLE
(February 12, 2010)
The National Marine Fisheries is investigating the deaths of at least four sea lions and a seal that have been found shot on a beach in West Seattle.
ELEPHANT SEAL NEWS: STRUGGLE FOR SURVIVAL ON NARROW PIEDRAS BLANCAS BEACH
(January 28, 2010)
The high tides and high surf from storms have wreaked havoc at the elephant seal nursery, with the surf almost obliterating their birthing place.
FACING BACKLASH IN EUROPE, CANADA HUNTS FOR NEW SEAL MARKET IN CHINA
(January 12, 2010, The Globe and Mail)
Despite growing world-wide opposition to the killing of seals for the fur trade, Canada has moved to sell seal fur, blubber and oil to the huge market of China.
SEA LIONS FROM SAN FRANCISCO'S PIER 39 MAY BE IN OREGON
(January 12, 2010, LA Times)
Hundreds of sea lions that made their residence at the San Francisco tourist attraction Pier 39 have apparently relocated to Oregon where food is more plentiful.
BEACHED WHALES KILLED BY INGESTING PLASTIC
(December 18, 2009, Italy)
Seven sperm whales that beached at Foraggia, Italy, died from ingesting plastic in the ocean.
SEA LIONS SAVED BY CHICAGO AQUARIUM
(December 13, 2009, LA Times)
Two sea lions removed from the Bonneville Dam on the border of Oregon and Washington were spared death thanks to the Chicago Aquarium.
SCOTTISH BILL THREATENS PREGNANT SEALS
(November 30, 2009, The Guardian)
A new marine bill allows the shooting of seals during breeding season.
For more information about work being done to protect Scottish seals,
click here
.
HUMPBACK WHALE SAVES SEAL FROM ORCA ATTACK
(November 26, 2009)
NOAA scientists researching orca whales in Antarctica witnessed an amazing display of inter-species protection. A pod of orcas forced a seal off an ice flow, into the water and prepared to attack the seal. A humpback whale intervened and the seal sought safety on the mammal's massive body and protection under the whale's flipper.
PACIFIC OCEAN "DEAD ZONE" IN NORTHWEST MAY BE IRREVERSIBLE
(October 9, 2009, LA Times)
An oxygen-depleted "dead zone" the size of New Jersey is starving sea life off the coast of Oregon and Washington and might be impossible to reverse.
TRAMPLING BLAMED FOR ALASKA WALRUS DEATHS
(October 1, 2009)
Trampling likely killed 131 mostly young walruses forced onto the northwest coast of Alaska by a loss of sea ice, according to a preliminary report released Thursday.
3000 walrus die in stampede in 2007 related to climate change.
WESTPORT SEA LION SHOT WITH ARROW
(September 21, 2009, KING 5 News)
A male California sea lion has been spotted at a Grays Harbor marina with an arrow in his side.
JUDGE: SEALS MUST LEAVE LAJOLLA CHILDREN'S POOL
(May 27, 2009, San Diego, CA)
A Superior Court judge has given the city of San Diego two weeks to devise a plan to remove a colony of seals from a La Jolla beach. The city plans to use recorded dog barks and possible water cannons to remove the seals from the established rookery. For article and video, please click here. To read all links and articles on this issue, please
click here
.
HOW TO MOVE THE SEALS? DOG RECORDINGS
(May 23, 2009, Sand Diego, CA)
According to the San Diego Union, the city of San Diego plans to broadcast the sound of barking dogs from 6am until dark every day in order to disperse a seal colony at Children's Pool beach in the affluent community of La Jolla. If the recordings fail to drive out the seals, the city will begin to spray water on the animals. The annual estimated cost for this proposed removal of the seals is $688,934. A state law is awaiting approval for a decision on whether the seals should be allowed to remain on the beach and establish a protected marine mammal park.
To read more in depth on this issue, please
click here
.
SWIMMING IN CONTROVERSY, SEA LION C265 IS FIRST TO BE KILLED
(April 17, 2009, The Oregonian)
Last month, "C265" became the first California sea lion legally euthanized by the government since the marine mammal protection act passed nearly 40 years ago. Read the story of why this sea lion, who ate approximately 43 salmon in one year out of roughly 85,000 which passed through the fish ladder at Bonneville Dam, was killed.
CANADA SEAL HUNT BEGINS AMID CONTROVERSY
(March 23, 2009)
Canada's annual seal hunt began Monday in expectation of the killing of 338,200 harp seals for pelts this season alone.
U.S. NAVY SEEKS TO BOOST PRACTICE EXERCISES OFF WEST COAST
(March 8, 2009, Seattle Times)
The U.S. Navy seeks to increase training exercises utilizing bombs, missiles and torpedoes off the West Coast and Puget Sound area. Environmentalists, scientists and lawmakers are demanding a review of the impact on marine mammals.
RESCUED SEA LIONS MAKE THEIR WAY BACK TO THE OCEAN
(February 16, 2009, Los Angeles Times)
Two California sea lions who developed a deep friendship while being rehabilitated at the Pacific Marine Mammal Center in Laguna Beach, Ca, were released back to the ocean today. Includes video.
NAVY'S PLAN TO USE DOLPHINS IN PUGET SOUND HAS ACTIVISTS HOT UNDER THE COLLAR (AND KNITTING SWEATERS)
(February 15, 2009, Los Angeles Times)
Local activists voiced opposition to the US Navy's plan to use dolphins and sea lions for defense purposes in Puget Sound. Read the story here.
NAVY STILL WANTS DOLPHINS, SEA LIONS TO PATROL KITSAP WATERS
(January 26, 2009)
According to the Kitsap Sun, the US Navy has resurfaced a proposal to have dophins and sea lions patrol Puget Sound waters as a line of defense against terror.
UNITED KINGDOM TO IMPOSE TOTAL BAN ON SHOOTING SEALS
(December 29, 2008)
Recent statistics released have revealed that seal populations declined by 56% between 2000 and 2007 in the United Kingdom, with a 25% decrease in last year alone.
HARBOR SEALS DECLINE 'ALARMING'
(December 2, 2008)
Scientists from St. Andrews report that harbor seals are vanishing in the UK at an alarming rate. BBC report.
OCEAN ANIMAL EMERGENCY: MARINE MAMMAL CENTER FEATURED IN DOCUMENTARY

(November 25, 2008)
"Part emergency room, part rehab facility, and part research lab, the Marine Mammal Center in Sausalito, California means the difference between life and death for sick and injured ocean animals. NOVA takes you inside this very special ER to witness the efforts of a renowned team of wildlife veterinarians as they fight to save their animal patients as well as to uncover the cause of a mysterious neurological illness plaguing marine mammals like California sea lions and harbor seal pups." Documentary.
SCOTTISH SEAL POPULATIONS PLUMMET

(October 2008)
Advocates for Animals has renewed its call on the Scottish Government to end the killing of seals in Scottish waters as new research shows a frightening fall in the numbers of common (harbor) seals around the coast.
SEAL PUP FOUND IN BACK OF CAR DIES
(August 27, 2008)
The same seal pup "rescued" from Whidbey Island beaches on two separate occasions by two different people has died.
SEA LION ON WASHINGTON FAMILY'S BOAT MAY BE POISONED BY ALGAE
(August 6, 2008)
A California sea lion that hauled out on a Washington family's boat may be suffering the effects of toxins from algae, causing aggression and disorientation.