IN THE NEWS: SEAL SITTERS

Seal pups and Seal Sitters have made headlines in all the print media, as well as NBC, ABC, FOX News, and Evening Magazine. To find out more about what the media is saying, please click on the "media coverage" links below.
Members of the media, please
email inquiries
here.
For day to day news about what's happening on the beach with about seal pups and other marine mammals as well as volunteer activities,
visit Seal Sitters' blubberblog.
NEWS LINKS
GEORGIA GERBER SELECTED AS SCULPTOR FOR YEAR OF THE SEAL PROJECT
A panel of 10 community members unanimously selected prominent Northwest artist
Georgia Gerber
to create a bronze sculpture of a mother harbor seal and pup to be installed at Alki Beach in September. The sculpture is the centerpiece of Seal Sitters'
Year of the Seal
educational outreach project, which utilizes the harbor seal, considered an indicator species by biologists, to raise awareness of the health of our waters.
Read more about the project here.
SEAL SITTERS ASK BEACH-GOERS TO SHARE THE SHORE
(January 9, 2013, KCTS-9)
A documentary film team from KCTS-9 recently completed a segment on Seal Sitters. Environmental journalist Katie Campbell and videographer Michael Werner interviewed co-founders Brenda Peterson and Robin Lindsey and 11-year old volunteer Etienne, who joined Seal Sitters in the 2nd grade. The team filmed volunteers protecting
Lucy
and other seal pups. The story was prompted by our report of West Seattle's 2012 seal pupping season with a higher than usual mortality rate. The video segment will be airing on PBS, but the audio has already aired on NPR's KUOW and other radio stations. You can see the video segment posted KCTS 9's website with accompanying script and photos.
SEAL SITTERS FOUNDERS' BOOK ABOUT SEAL PUPS NAMED ONE OF TOP SCIENCE BOOKS
Leopard and Silkie, One Boy's Quest to Save the Seal Pups
(Henry Holt Books for Young Readers), text by Brenda Peterson and photographs by Robin Lindsey, has been named a winning title in the
top science trade books for K-12
by the National Science Teachers Association.
SEAL SITTERS AMONG 5 WEST SEATTLE GROUPS RECEIVING CITY GRANTS
(December 3, 2012, West Seattle Blog)
The all-volunteer group formally got some good news today - the Department of Neighborhoods included a city grant for Seal Sitters Year of the Seal educational outreach project, culminating in the installation of a harbor seal mom and pup sculpture at Alki Beach.
Read more about the Year of the Seal project
here
.
FEWER SEAL PUPS BEING SIGHTED THIS YEAR ON WEST SEATTLE BEACHES
(October 28, 2012, KING-5)
Fewer seal pups are being spotted this year around West Seattle, and a larger percentage of the animals is dying, according to Seal sitters, a nonprofit that advocates for the animals.
* please see our
blubberblog related story here for clarification
AUTHOR BRENDA PETERSON AND SEAL SITTERS FEATURED ON ABC-PORTLAND TV
(July 6, 2012)
Co-founder of Seal Sitters and respected nature writer, Brenda Peterson was interviewed on AM Portland - KATU about the new children's book,
Leopard and Silkie
, as well as the volunteer group which protects marine mammals in Puget Sound.
11-YEAR OLD SEAL SITTERS VOLUNTEER FEATURED ON NATIONAL PUBLIC RADIO
(April 20, 2012 NPR)
The children's book Leopard and Silkie (Henry Holt publishing, Peterson/Lindsey) and Seal Sitters Marine Mammal Stranding Network was featured on NPR's Living on Earth segment. 11 year old Etienne who has been a Seal Sitters volunteers since second grade was interviewed about her experiences watching over vulnerable seal pups. Brenda Peterson was also featured.
SEAL SITTERS' CO-FOUNDERS PUBLISH CHILDREN'S BOOK ON SEAL PUPS AND SEAL SITTERS
(April 2012)
Brenda Peterson, well-known nature writer, and Robin Lindsey, photographer and Seal Sitters' lead investigator have recently written a children's book, Leopard and Silkie (Henry Holt Publishing) based on the true story of two West Seattle seal pups. Visit the book website for media reviews.
LOST FISHING GEAR BECOMING BIG THREAT TO PUGET SOUND MARINE LIFE
(April 8, 2012)
The death of a rescued seal pup, trapped in an underwater tangle of fishing line, shows the deadly toll of lost fishing gear. Old fishing line, crab pots, lines andhooks ensnare and kill more than half a million sea creatures in Puget Sound every year.
Read the story of
seal pup Sandy's rescue, rehab and death
on Seal Sitters' blubberblog.
SEAL PUPS ON SEATTLE'S SHORE ATTRACTING ATTENTION
(October 12, 2011, Associated Press)
Associated Press feature story on Seal Sitters and our bumper crop of seal pups this very busy season. The article has been picked up nationwide.
SEAL PUPS COMING ASHORE - LOOK, BUT DON'T TOUCH
(September 21, 2011, Seattle Times)
Feature story about Seal Sitters and busy pupping season in West Seattle.
SEAL SITTERS' PUBLIC SERVICE ANNOUNCEMENT GETTING HIGH VISIBILITY
(August - September, 2010)
Seal Sitters' public service announcement, produced as a result of an in-kind grant from the Seattle Department of Neighborhoods, has been played regularly on local tv stations. Additionally, the NW Marine Mammal Stranding Network and Seal Sitters were featured on the Washington State Ferry website for the month of September.
VOLUNTEERS EXHAUSTED AS RECORD NUMBERS OF SEALS HIT BEACHES
(November 15, 2010, KOMO 4 News)
Seal Sitters featured in a lead story on KOMO 4 TV as an unusually busy October and November stretches volunteers.
STRANDED SEA LION RESCUED FROM SEATTLE BEACH
(April 19, 2010)
Seal Sitters responded to reports of a stranded sea lion on Golden Gardens beach in Ballard. The injured and underweight California sea lion was removed from the beach by NOAA and WDFW. The sea lion died overnight and necropsy revealed a broken sternum and internal bleeding. All related stories and news videos.
SEAL SITTERS FEATURED IN SEATTLE TIMES
(July 26, 2009)
The Seattle Times features a "Local News" cover story article on Seal Sitters. Read the story by environmental reporter Lynda Mapes.
TEEN SEAL SITTERS FEATURED IN SCHOLASTIC ACTION MAGAZINE
(February 23, 2009)
Seal Sitters Max and Nikki are featured in the February issue of the national educational publication Scholastic Action which is distributed to schools across the U.S.
Read the magazine article here (pages 17-19).
SUPERSCIENCE MAGAZINE FEATURES YOUNG SEA
L SITTERS
(February 2, 2009)
The current issue of SuperScience, a magazine distributed to over 550,000 schools in the U.S,, contains an article about Anasophia and A'ine, two young people who are dedicating hours to seal sitting.
Read the magazine article here
.
NATIONAL MAGAZINE FEATURES ARTICLE ON SEAL SITTERS
(August 2008)
Wildlife Conservation Magazine, a national publication by the Wildlife Conservation Society, featured a Brenda Peterson article about Seal Sitters with photos by Robin Lindsey. "Seal Sitting: On Beach Patrol in Seattle" appeared in the September/October 2008 issue and was the lead story on the magazine's website.
Read the article here.
ORION MAGAZINE FEATURES PETERSON ARTICLE "SAVING SEALS"
(January 2008)
Orion Magazine, one of the premier periodicals on nature, culture and the environment, featured an article by Seal Sitter Brenda Peterson, "Saving Seals: Our duties in this world and beyond" in the January/February issue. "Two friends keep watch over a baby seal hauled up on a beach. Both are compelled by a love of this world, though one is seduced by thoughts of the next." ~ Orion
SEAL SITTING BY THE SALISH SEA
(August 21, 2007, The Seattle Post-Intelligencer)
Group of volunteers protect seal pups on Alki Beach.
GROUP TAKE TURN WATCHING OVER ALKI SEAL PUPS
(September 18, 2007)
They call themselves seal sitters, residents who have devoted their days and night to watching over baby harbor seals.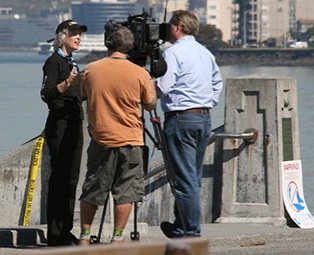 SEAL SITTERS TV COVERAGE
SEAL SITTERS ON EVENING NEWS
Brenda Peterson
, founding member of Seal Sitters and internationally renowned novelist and nature writer, is interviewed on Alki Beach by Seattle television station KING 5 (NBC). She discusses the educational work that Seal Sitters performs and the importance of protecting harbor seal pups in an urban environment. See media links below.
KING 5 NEWS (NBC)
SEAL SITTERS PROTECT BABY SEALS ON BUSY BEACHES
SEALS NEED SITTERS TOO (VIDEO)
INJURED SEAL TURN UP AT ALKI BEACH
INJURED ALKI BEACH SEAL RECOVERING FROM HIS WOUND
WITNESSES REPORT SEAL KILLING AT ALKI BEACH